A fabulous winner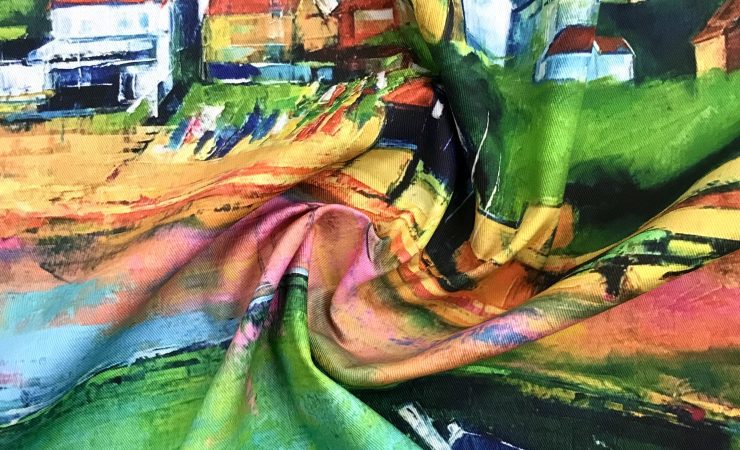 An example of the printed fabric used in Prinfab's award winning 'Boat in the Bay' project
On Thursday 4 November Prinfab, a Kent-based printing company, won the first ever 'Digitally printed textiles' award at the Digital Printer Awards. The category was brand new for 2021, having been added to the awards in recognition of the growth of the textile printing market and to coincide with the launch of this website. In this exclusive interview, the company's co-founders tells us about the company and provides their insight on the wider industry.
Prinfab was launched in 2016 by brothers Oliver and Harry Mustoe-Playfair. With a background in stock-based e-commerce, science and technology, the brothers were keen to create a business that manufactured products on-demand. Having previously worked in the hobby and craft industry, it wasn't long before they turned their attention to fabric, where their research showed that technological advances in digital textile print technology meant that it was commercially viable for the brothers to print fabric on-demand.
What followed was months of research and development, culminating in the purchase of their first printer and the development of bespoke software with which they launched Prinfab. Based in Faversham, Kent and already boasting a seven-figure revenue, Prinfab offers a service where customers can upload any image via the company website and print their designs onto a wide range of fabrics. There is no minimum and orders are shipped within two days.
This sort of success is all the more impressive when you consider that neither brother had any commercial experience in digital printing prior to Prinfab. 'We thought it would be as simple as purchasing the kit and plugging it in,' explained Oliver. 'This couldn't have been further from the truth, and it took several months to get print quality to a commercially acceptable standard.'
The equipment
Despite this lack of experience in digital printing, the pair's technical experience enabled them to build software automation that would provide a scalable print on-demand service. This service depends upon direct-to-textile pigment and dye sublimation printers. As Harry explains, 'Pigment ink enables us to print on a wide range of fibres including cotton and linen. The process is waterless which makes it one of the most environmentally friendly ways to print natural fibre fabric – a key consideration in any decision we make at Prinfab.
'Dye sublimation gives us extended capability to print on fabrics that we simply couldn't print using a direct-to-textile method, such as velvet for example. For dye sublimation, we print onto transfer paper before running through with the fabric on a heat calender.'
Up until earlier this year, the business ran an array of smaller machines able to run at speeds up to 14sqm/hr, however as print volumes increased it became clear that Prinfab needed to migrate to larger industrial machines. The firm therefore became one of the first companies in the world to install the Epson ML-8000 printer, which is capable of printing over 200sqm/hr.
In addition to the industrial print equipment on display in Faversham, Prinfab considers automation to be core to its business. From the outset, the brothers developed their own software, enabling them to process thousands of individual jobs from thousands of individual customers every single day. As Oliver outlines, 'Automating production has enabled us to scale quickly and provide a fast, reliable and consistent service to our customers.'
The products
The company prides itself on the wide range of fabrics it can print onto, such as cotton, polyester, lycra and linen. Other materials Prinfab can handle include, suede, velvet, bamboo and spandex. In terms of the products that can be produced with these materials, the world is your oyster, from clothing to furnishings, via cushions, art and signage. 
In recent years, however, Oliver says that green considerations have been of particular interest to customers. 'Over the past five years, we have seen increasing demand for organic and sustainable fabrics. The global pandemic and Brexit has made it difficult to source these fabrics, but they have become an important part of our offering.
'There are fabrics our customers ask for that we cannot print. A good example would be natural silk as it requires printing with acid or reactive inks that require steaming afterward. Although it would be commercially viable, it would go against our environmental objectives. As with any decision, it has to be a balance between customer demand and our own objectives. Remaining focused has been key to achieving success with Prinfab.'
The future
Given its seemingly exponential growth, as well as its newfound success in terms of awards, it's no surprise that Prinfab has big plans for 2022.
'Last year was a busy one for us,' concludes Oliver, 'We moved to a larger factory, doubled the size of our team and migrated to larger industrial machinery. 2022 will be an opportunity for us to focus on our technology platform and offer a range of new services. The aim being to reach a wider customer base and continue delivering exponential growth.'