Belgian firm adds third Agfa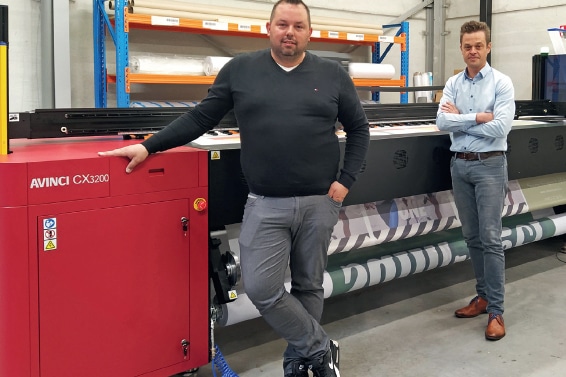 FDM Print Group manager Franky De Meyer (L) with Agfa Inkjet Sales Manager Niko Dheedene and the new Agfa machine
Publi-FDM, a Belgian PSP that specialises in visual communication products, has installed an Avinci CX3200 dye sublimation printer at its premises in Sint-Lievens-Houtem.
The company grew out of manager Franky De Meyer's website development business and now has 30 permanent employees working alongside a few freelancers for specific assignments. Its printed products include banners, billboards, real estate singage, advertising columns and illuminated advertising.
The 3.2m printer, which is the third Agfa that the Flemish company has installed, uses Kyocera printheads and boasts a maximum print speed of 270sqm/hr. It can print directly onto fabric and onto transfer paper.
In terms of why Publi-FDM opted for the Avinci machine, Mr De Meyer explained, 'Initially I was not such an Agfa fan, and it only has the opposite effect on me when sales reps come knocking at my door. I'd rather listen to the experience of other users and if that feedback is positive, I immediately take the bull by the horns. That's how the ball started rolling here. A few years ago, I sat down at the table with Agfa. At the end of 2018 we installed a Jeti Tauro H2500 LED and an Anapurna 3200i LED.
'Almost three years have passed and I have become a real fan. Agfa's printers are without doubt solid and reliable machines and with our short delivery times, that is really a must. I will be brief about the print quality: It is simply top-notch and consistent, even at higher speeds. The proximity to Agfa and the smooth availability of parts and inks have also proved to be a real added value and not just part of a sales pitch. And if something does go wrong, our experience is that Agfa reacts very quickly. The fact that we have purchased another Agfa printer is the best proof that we are satisfied with both the cooperation and the equipment.'