Direct-to-film printers set to star at Printwear & Promotion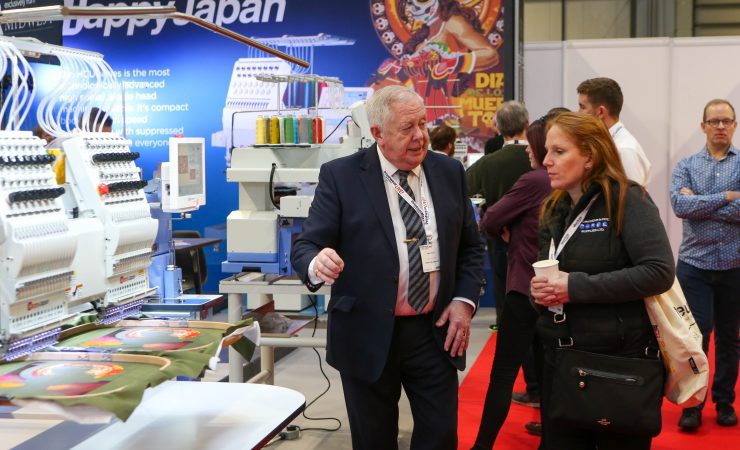 Printwear & Promotion will be returning to the NEC for the first time since 2020
Printwear & Promotion has revealed more information about what visitors can expect to see when the show returns to Birmingham next month. Organisers are describing the event, which will take place at the NEC from 20 – 22 February, as the place to be for anyone 'looking to either get started in garment decoration or enhance their existing set-up.'
One technology which will take centre stage, and which has exploded in relevance since the last time Printwear & Promotion took place in 2020, is direct-to-film printing. The process, which uses a specific kind of water-based ink to print a film transfer, which is then transferred directly onto the substrate, is being positioned largely as an alternative to direct-to-garment printing.
Both The Magic Touch and Resolute DTG will be showcasing the R-Jet PRO DTF – a standalone wide-format printer, with The Magic Touch bringing the new Mutoh/STS VJ-628D printer as well. Jim Nicol, managing director of The Magic Touch, has been championing direct-to-film printing for some time. He commented, 'Having considered over the past 12 months the great response and uptake of direct-to-film technology, combined with the success of those now using the process in production environments, we must ensure we are able to offer the right solution for specific customer needs. The existing R-Jet PRO printer is truly fantastic and offers real transfer production capabilities up to 15sq m/hr but we strongly feel the size and space requirement is restrictive for many potential users. This new desktop option is perfect despite the slower production speed.'
Other relevant stands for those interested in direct-to-film printing will include RA Smart, who will be demonstrating their own solution, and YES Group, who will be introducing the new DTG Q Series, a hybrid DTG and direct-to-film printer. Finally J&B Sewing Machine Co will be demonstrating how users of the Epson SureColor SC-F2100 and SureColor SC-F2000 can transform these machines into direct-to-film printers.
There will also be plenty to see when it comes to DTG, screen and transfer printing as well. For instance Roland DG will be debuting its Texart XT-640S-DTG, a multi-station DTG garment printer that prints full-colour graphics directly onto cotton-based T shirts and apparel in as little as eight seconds. Paul Willems, Roland DG's director of business development and product management EMEA, explained, 'The new Texart XT-640S-DTG is another great example of the opportunities offered by Roland digital technology. Its speed, accuracy and versatility make it ideal for garment suppliers moving from screen printing to digital, those already running multiple DTG machines, brands bringing production in-house, garment embroidery businesses looking to diversify their product offering, and many more. The digital DTG printing market is set to grow and grow, and we're looking forward to helping more of our customers join it.'
Elsewhere MHM Direct GB will be demonstrating the Brother GTX600, which its says is the first DTG printer designed specifically for mass production, and Xpres will showcase the Epson SureColor SC-F3000, a production-level machine that can produce up to 60 full platen dark T shirt prints per hour.
There will also be plenty of machinery on display when it comes to embroidery, with almost 20% of all stands at the show set to have some form of embroidery equipment and supplies on display.