Josero lets Agfa go Freestyle in Bath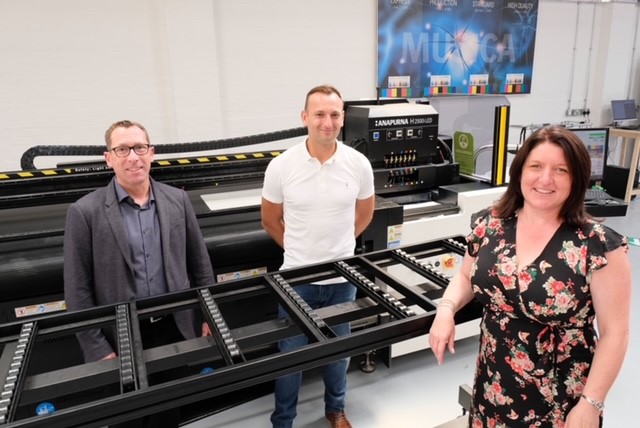 Josero's Mitch Anstey and Sarah Winterbottom flanking Freestyle Designs' Jayson Godridge at the Agfa showroom in Rugby
Bath-based branding and signage business Freestyle Designs has installed an Agfa Anapurna H2500i LED to help it eliminate bottlenecks and pursue those higher volume projects.
The company, which was founded by managing director Jayson Godridge 14 years ago, specialises in a range of services from standard shop signage projects to large rebrands, vehicle graphics, wallcoverings and vinyl graphics.
Mr Godridge says that he always aims to keep the business moving forward but, 'We knew we weren't going to be able to achieve that with our current machinery.' Instead the company needed something faster, that offered higher quality and increased output. After a special summer event at the Agfa showroom in Rugby, Mr Godridge opted for a larger model – the Agfa Anapurna H2500i LED.
'It was bigger than the machines we were originally looking at,' said the MD. 'But when I went to see it in action at Agfa it was clear that it would fit just fine, and that it was definitely the machine that would help us grow and push into different areas and different types of work. As soon as I walked in and saw it printing, I knew I wanted to go for it!'
Freestyle had an existing relationship with Josero, and with consumables sales manager Mitch Anstey in particular. Mr Godridge explained, 'We were initially talking to another company about the same machine, but having had a good experience with Josero in the past, the trust was there and I felt much more comfortable working with them on the purchase than anybody else.'
The Agfa machine is now up and running in Bath, with Josero overseeing both the installation and training processes. According to Mr Godridge it is 'already earning its keep.' He expanded 'The bottleneck doesn't exist at all anymore. The machine is a beast, and is just churning through the work. It's very reliable and working really well.'
Specifically the press is helping Freestyle produce exhibition graphics, display boards and POS projects, and it's helping the company to promote their eco-friendly range of products as well. Beyond this, however, it is opening up new possibilities as well. 'We're using different media,' the MD expands, 'and we're able to work with wider media because it's a hybrid machine. We can print rolls, which we couldn't do before on our flatbed, so we're now printing rolls up to 2.5 metres wide which has massively increased our output.
'We've been approached by other sign companies that have heard we have the machine, and we've been producing work for them when they're over capacity themselves, so we're seeing unexpected advantages. I really wasn't expecting trade work to be coming off the back of this new machine, especially so quickly. We've done a few decent-sized jobs from it, and those companies were really impressed by how quickly we could turn it around.'