Banner Box produces all flags for the Commonwealth Games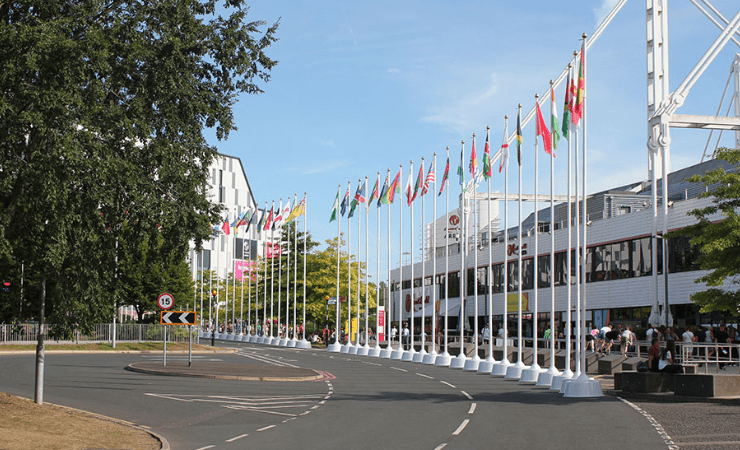 All flags were made from polyester and can be reused in the manufacture of second life products.
Banner Box Print Solutions has printed all the flags required for the Commonwealth Games in Birmingham using Mimaki and EFI printer technology.
To win the work, Banner Box and sister company, Flagmakers, had to deliver every single flag, using inks and materials supplied by CMYUK, required by the organisers throughout the Games.
This included flags of the 72 competing nations for the 25 venues in and around Birmingham, the protocol flags of the Commonwealth Federation and other sporting governing bodies, flags for the Athletes' Parade opening ceremony, and finally, flags for the medals' ceremonies.
In total, this amounted to more than 7000 flags installed both indoors and outdoors. According to the firm, part of the complexity of the project was to ensure that the finishing was suited to each site, and as such, four different variants were used across the whole job.
Ryan Shelton, director of Banner Box, said, 'We have a long-standing relationship with CMYUK for production equipment, materials and multiple consumables which made them the natural first choice supplier.
'Delivering contracts like the Commonwealth Games required fantastic teamwork and partnerships with our suppliers. CMYUK delivered thousands of metres of fabric and hundreds of litres of ink on time, ready for our hardworking team to turn them into finished products. We achieve accurate colour reproduction and importantly for flags, a high percentage print-through to the reverse of the fabric. In addition to the flag materials, we source several other substrates and ink types from CMYUK, these include Frontlit and Backlit polyesters, Black back, and a range of eco-materials for our UV print systems.'
Banner Box used PONGS materials, which are digital print-ready recyclable polyester-based textiles renowned for their stability, ease of handling, and vibrant colour reproduction. PONGS Supreme Fabric Flag Material was profiled to work with the company's EFI Vutek FabriVU digital textile printer.
Flags that cannot be re-used will be collected and directed to the appropriate recycling streams. All flags are made from polyester that can be recovered and reused in the manufacture of second life products.