Kornit launches new tech in Tel Aviv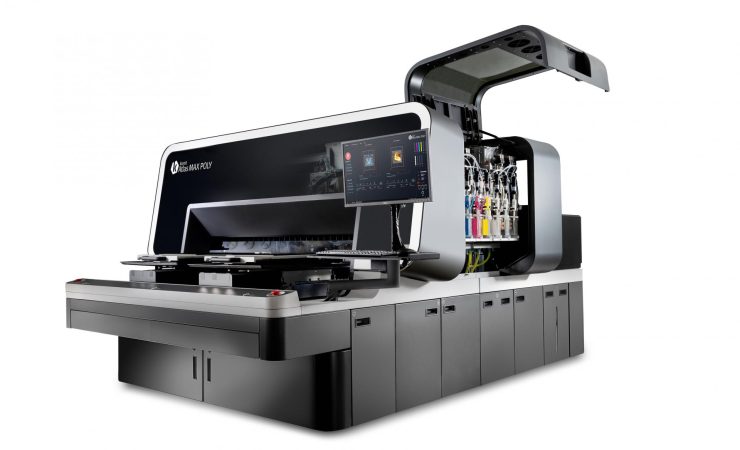 The Atlas Max Poly from Kornit, intended to open up the world of printing onto polyester
Kornit has used its Tel Aviv Fashion Week to launch two new pieces of direct-to-garment (DtG) technology, the Kornit Atlas Max Poly system and the Kornit Apollo.
The former is a DtG system that the Israeli company describes as an 'industry first' solution 'delivering superior-quality digital decoration for vibrant, colourful design on polyester and poly-blended apparel.' Already successfully deployed at four beta sites around the world, Atlas Max Poly is intended to help meet demand for fashionable, unique sportswear and apparel. Kornit believes that, as the world emerges from a post-pandemic environment in which athletic and leisurewear became mainstream, demand will remain high for apparel combining polyester and poly-blends with vivid designs across a wide range of colours.
The company says that the Atlas Max Poly will help to open up the professional and recreational sports apparel and teamwear markets, which have previously been limited by the difficulty in personalising polyester garments. Chief marketing officer Omer Kulka explained, 'Kornit Atlas Max Poly is a game-changer. As fashion and sports apparel merge, there's new opportunity for innovative fashion on polyester, currently the fastest-growing textile vertical. For the first time, recreational sportswear, promotional, and sports brands can embrace vibrant and colorful design with Kornit's proven Max technology – setting superior quality standards for on-demand production previously not possible.'
Building on the company's existing Max technology, Atlas Max Poly is compatible with mesh and plain fabrics, including brushed polyester, Kornit says that, 'It enables endless designs and creativity on polyester, and empowers new styles for multiple effects and unlimited combinations such as emulating threadless embroidery, high-density vinyl, screen transfer emulations, and 3D effects.'
Meanwhile the Apollo also features Max technology, alongside functionality from Tesoma, the drying and curing specialist that Kornit snapped up earlier this year. The company says that the solution is 'the most comprehensive digital, single-step end-to-end system for nearshore short-and-medium-runs mass production and offers optimal TCO and highest output per operator.' With early customer engagements in the second half of 2022, the system will be available mid-2023.
CEO Ronen Samuel added, 'These accelerating shifts to nearshore and short- and medium-run production, in addition to the breakthrough digital advancements we are introducing with Apollo, should allow Kornit to address significantly more of the annual global decorated apparel jobs, generating a multi-billion-dollar opportunity for our customers and partners.
'The fashion and textile industry is at a critical inflection point. As the design, technology, and fashion worlds converge, there's a tremendous opportunity now created. Kornit is writing the operating system for fashion – and today, we are introducing game-changing technology for mass production that will offer a powerful alternative to screen printing.'
Kornit Fashion Week Tel Aviv 2022 is taking place from 3 – 6 April, with hundreds of designers, brands, creators, e-com platforms, manufacturers, and virtual fashion pioneers attending events at Kornit's headquarters and across other major venues in Tel Aviv. Alongside the introductions of the Apollo and the Atlas Max Poly, Kornit also devoted particular attention to the potential of the developing virtual world and its potential to impact fashion.