Printful of potential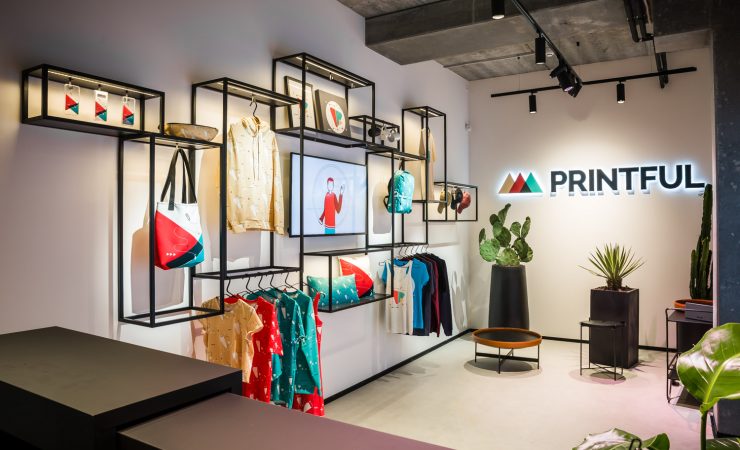 Since its foundation in 2003, Printful has grown until it has a net revenue of around $208m
Digital Textile Printer sits down with Davis Vasilevskis, co-founder of Printful, Latvia's first 'unicorn' startup, (a unicorn is a privately held startup company valued at over US $1 billion) to learn about his company and how e-commerce solutions can bring custom textiles products to the masses.
As eagle-eyed readers will have spotted, it has been a busy few months for Printful, the print-on-demand and fulfilment specialist. The company is in the process of opening a £2.6 million UK fulfilment centre, recently entered into a partnership with tech start-up Vexels, and its successful Black Friday weekend saw its gross merchandise value reach more than $1 billion, while its total number of items printed break the 40 million mark.
We say it's been a busy few months, but the reality is that this is pretty much business as usual for Printful. The company grew out of a fellow startup, Startup Vitamins, which is an online store selling motivational posters for entrepreneurs.
'The company produced wall art,' Mr Vasilevskis says. 'It noticed how many startups there were that just had bare walls and so it started selling posters and the like, using a small printer in a garage. 
'As time went by, and the amount of orders grew, Startup Vitamins' leadership wanted to branch out into the booming business of apparel. They looked around for someone to assist with printing and fulfilment, but couldn't find anyone able match their own quality standards. As a result, in 2013, Printful was born.'
Within three years Printful had printed more than a million T-shirts, a product that Mr Siksans says still remains the company's most popular, though sweatshirts, mugs and posters also fare well; in 2017 it started making warehousing and logistics services available and in the following year it began opening fulfilment centres around the world. By 2019 Printful had printed more than 10 million products.
At the time of writing, the company boasts some 389,000 active customers, counts 1800 people across North America and Europe as part of its team and has a net revenue of around $208 million. It has also invested more than £41.6 million in printing equipment, the vast majority of which is direct-to-garment (DtG) technology, though with some dye sublimation options as well. 'Most of our DtG systems are Kornits,' Mr Vasilevskis said. 'We're very happy with them.'
The UK
First announced in June, Printful's new UK fulfilment centre, based in Wolverhampton, is set to open its doors early in 2022. The 90,000sqft facility is expected to create over 50 new jobs during its first year of operations.
The new centre, in which Printful has invested an initial £2.6 million, will immediately start providing DtG printing services as well as embroidery options. There are plans to add other options in the future.
'There were several reasons why we chose to open this facility in the UK,' Mr Vasilevskis told Digital Textile Printer. 'First of all were the needs of our existing customers in the UK. They wanted a fulfilment centre because, with e-commerce, the delivery time is essential. Shipping from Europe takes significantly longer than shipping from within the UK to other parts of the UK.
'From our point of view we decided back in 2020 that we had to be there, because of the size of the customer base. Britain has the largest e-commerce market in Europe. There is significant value in being close to the large populations, and the fact that the English speak English also helps! It makes sense as a customer base.
'Finally, there was Brexit. Things like shipping times, customs fees and border issues are all concerns when it comes to fulfilment.'
The future
For a company that has come so far, so fast it can't be easy to make concrete predictions about the future. Mr Vasilevskis, however, seems to have a clear idea of where he wants his business to go.
'We have grown quite a bit in the past three years,' he says. 'Back then we were only on the ground in Latvia and the US. Fast forward to 2021 and we have a presence in 10 countries. That includes Spain, Latvia, the US, Mexico, Canada and the UK. We also then have partners in Australia, Japan and Brazil.
'Our focus now is to develop these markets more and to exploit the opportunities we find before expanding further. We've reached maturity, we've expanded, now it's time for us to capture that value.'
That's the business strategy, but what about introducing new applications? Printful now offers more than 300 different items to its customers, with around 70 of those being introduced in the past 12 months alone.
'We have a new products team who are constantly looking into new products and segments,' the CEO explains. 'Wall art and home decor are interesting areas. We put quite a lot of effort into looking at how we can expand our offering and allow customers to do what they want. In short, we are always looking to add more products and asking how we can offer more customisation.'
The recent partnership with Vexels is an example of this attitude. Vexels is a tech start-up which provides its millions of users with print-on-demand design solutions.
Mr Vasilevskis explained the rationale between the partnership. 'Printful strives to provide an A–Z e-commerce service, and this partnership will serve as a valuable addition to the design process for our customers.
'Vexels offer designs tailored to a wide range of different categories and audiences, from anime and funny animals to body positivity and feminism. Vexels provided us with the most trendy and in-demand designs on their end and this partnership will help us offer even more possibilities to our customers.'
Finally, when it comes to the potential market, how large does Mr Vasilevskis think it can get? 'There are people out there looking to become e-commerce sellers,' he concludes. 'It's now possible for people to build their own business, or add their own side hustle. Apparel and other textiles are great examples of the sort of business that can operate on this basis. The market is growing and that's not going away any time soon.'