CMYUK: the next generation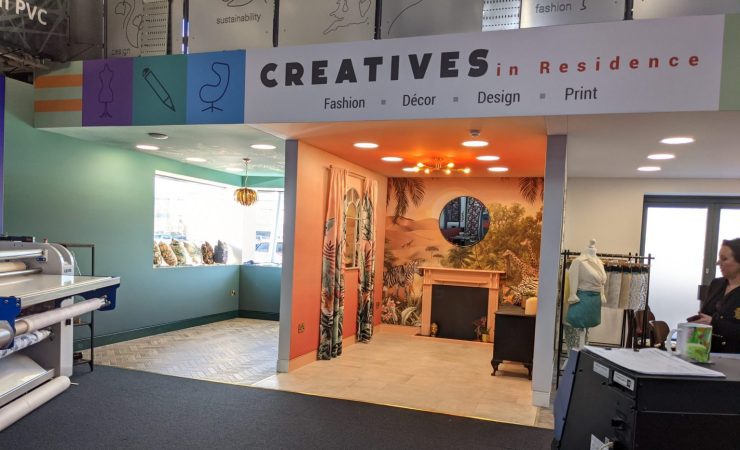 CIRL HQ in Shrewsbury, including the rooms put together by Avalana Designs
On 2 December CMYUK hosted an open day at its Shrewsbury premises to provide a unique insight into its Creatives in Residence Live (CIRL) programme as well as the company's own activities.
The CIRL programme, first announced back in September, sees three budding designers take part in a six-month 'learning journey' at CMYUK's demonstration and training centre.
The programme was launched amid what CMYUK calls 'a radical transformation of the textile industry,' with digital printing and e-commerce options driving growth in demand for personalisation, short-runs and just-in-time production, as well removing the need for storage or the creation of surplus items.
The programme is intended to allow the young creatives to fully absorb these trends and technologies, providing them with 'insight, experience and practical knowledge that is highly advantageous for their early career development.'
The curriculum was put together Debbie McKeegan, founder of Texintel, CMYUK's media partner for the initiative, and Fespa Textile Ambassador. 
Other interesting aspects of the open day included the unveiling of CMYUK's latest investment, a new Epson SureColor SC-F9400H dye sublimation printer.
A 1.6m six-colour machine designed for fast, high-volume printing across clothing, soft signage and other textiles, CMYUK's new model can also print using two fluorescent inks – yellow and pink.
Visitors to Shrewsbury also got to see set of rooms developed by Avalana Design to showcase precisely what digital print can accomplish when it comes to interiors; CMYUK's new fabric binders, which display all the various substrates the company supplies; plus other print equipment including printers, calendars and finishing equipment.
CIRL
Ms McKeegan was present at the event and, alongside CMYUK group sales and marketing director Robin East, explained how the project came about. 
Mr East began, 'Debbie and I were on the same page when it came to our view of up-skilling and we're both passionate about bringing young people into the industry. We've all heard about the skills gap or read articles about apprenticeships, but at a certain point… actions speak louder than words! 
'What we've done is take three designers who already have plenty of transferable skills, provide them with an effective curriculum, a range of mentors and an opportunity to learn how things work in the 'real world.' We wanted to show what could be done with just six months of work and Debbie and I are both confident they're all set to do great things.'
Ms McKeegan added, 'Some pre-existing problems have really been brought into focus because of lockdown; for some it's been almost a forgotten two years with youngsters in danger of being left behind. Graduation shows took place, but nowhere near as many as normal and for designers it's been a lottery to see who got exposure, who got to build connections.
'Everyone graduates with a different level of confidence, but that doesn't equate to talent. We all need mentors to succeed, we onboard information from them, and that impacts our careers.
'In the UK we have the best pool of creative designers in the world, from music to fashion, we're actually really good at it. When it comes to supporting the next generation… for me, it's a bit like greenwashing, talking a good story isn't enough, you don't just talk about reshoring, you do it. You must invest in both people and infrastructure to make a success of it.
'We wanted to prove it isn't as difficult as people think… these graduates really do want the career. They're committed. They turn up and they're grateful.'
The graduates
But what about the graduates themselves? What do they think of things so far? Let's hear from Keely Russell, Evie Venables and Sarah Willcocks to find out how things are shaping up on this unique digital textiles internship.
How would you describe your journey to date? 
Keely Russell: I've had an amazing experience so far. I've made so many industry connections in such a short space of time. I specialised in printing at university and loved that pathway, so working in a company like CMYUK that is a leader in wide-format digital print has been a really good starting place.
Evie Venables: It's been really interesting working on different briefs because it's pushed me to approach my designs in different ways and experiment with new styles that I wouldn't have done on my own.
Sarah Willcocks: I've seen how important digital printing is to the future of textile design and been exposed to cutting-edge production technology. Visiting the mentors in their own studios has made me even more passionate about what I want to do.
What are the things you've found most insightful, challenging, and/or enjoyable?
KR: The different industry visits have been very insightful as we've been behind a lot of closed doors. Our design work has been punctuated with lots of visits, making turnaround times faster than I'm used to, which is a really good introduction to the industry. Getting to use all the technology at CMYUK to test, sample and print to my heart's content has definitely been one of the most enjoyable aspects.
EV: The visits and industry mentoring have been both insightful and enjoyable. We've got to see how different designers work and how they run their businesses. The most challenging aspect has been learning to use all the different RIP software as there's a lot to take in. Up until now, I've focused on the design side of things, so it's really good to think about the end product.
SW: The challenge has definitely been the time pressure and finding the best methods to execute ideas. The insights I've gained by seeing the technology behind bespoke printing and the ethical side of fashion has really helped to solidify my interests. The most enjoyable aspect has been the diversity of work that I have done. 
How has becoming more familiar with different digital print technologies helped your practice?
KR: I'm thinking much more about the end product, the fabrics I'll be using and what ink technology is most suitable for the job in hand. Just knowing about the technology has really helped broaden my ideas. I've also been looking at printing onto hard surfaces. At university I printed onto a lot of textiles but never onto the variety of surfaces that CMYUK offers here.
EV: Working with an array of digital technology has made me think about the finished  product and what I can or can't achieve with different technologies.
SW: It's been good to understand the reach of certain technologies and also what type of ink you might need to use depending on the application. It's been really useful understanding how long the various processes take and what this might mean to a large volume order with a quick turnaround.
How are you incorporating Earth-friendly considerations into your designs?
KR: Digital printing is perfect for short-run production. Designs can be sampled at small scale and produced immediately on-site. We had a CAD session on dropping designs onto garment patterns that reduces wastage. There's also a great deal of organic and recycled materials to choose from the CMYUK textile binders, which I've been looking at as a first choice for my designs.
EV: Accuracy and efficiency of print onto natural and recyclable materials, minimising waste, and only using what you need.
SW: Talking to the Pattern Room really bought home how much waste there is in the fashion industry. I am being mindful of that and conscious of the type of base materials I use. I am also looking more closely at the textile manufacturing processes and the lifecycles of all materials, both natural and man-made. Also, understanding that sustainability is dependent on a number of factors and working out what would be the best-case scenario.
Have your perceptions around digital textiles and affiliated industries changed due to your mentoring sessions?
KR:  Talking to designers and industry experts has really deepened my understanding of digital print. I'm excited by the fashion and interior businesses that we've been mentored by and the digital methods they use in-house, which obviously opens up a lot more opportunities for print designers in the industry.
EV: I was already aware of the high demand and time pressures of the textile design industry but it's definitely been highlighted even further. You can't spend too long on a design even if you want to because you will just end up wasting money and making no profit. I'm just a lot more aware now of the commercial aspect of design.
SW: I have become aware of the rise in demand of personalised products and the new business models that have come to the fore due to digital processes and the Internet.  
What are your future career hopes?
KR: I love reading interior design magazines.  It would be a dream to be able to have my work featured in these magazines either through a brand or my own designs.
EV: I would love to gain more experience in both a fashion and interior design studio to help me decide what I'm best suited to, or possibly break the boundaries and do both. I would love to run my own business one day and see my products commercially available.
SW: I am gravitating towards the décor market, it's definitely an area where I can see myself developing a full-on career.