Guess who's back!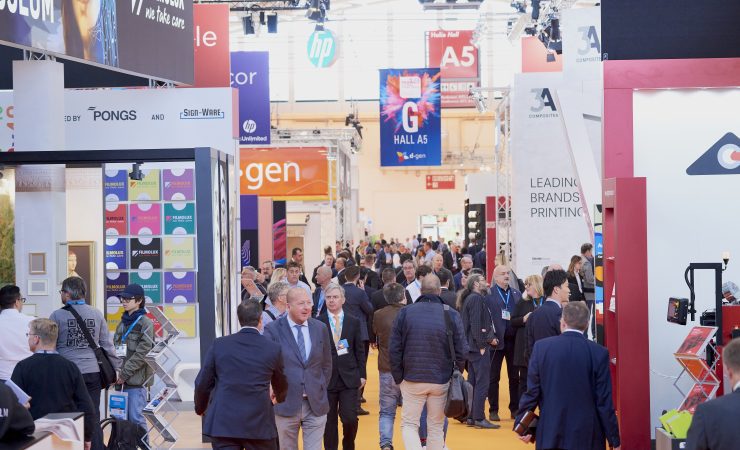 Fespa will throng with visitors for the first time since 2019
Every two months Digital Textile Printer sends out an e-newsletter exploring all the latest news and developments from across the most exciting sector in print. The only way to make sure you receive all of our content, including interviews, case studies and analysis is by registering, which you can do HERE.
---
It's been a long wait, but for the first time in almost two years Fespa's Global Print Expo is back, taking place in the Dutch capital of Amsterdam. In this article you'll find an exclusive interview with CEO Neil Felton about what to expect as well as a sneak peak of what the various exhibitors have planned.
First, here are Mr Felton's thoughts…
It's fantastic that people are able to return to events and exhibitions. How close will the upcoming event in Amsterdam be to 'normal'?
Yes, it's great news. We really can't wait to be at a live Fespa event again and feel the unique buzz and camaraderie that only comes when a business community is brought together.
This year, with the ongoing Covid restrictions, it's likely that the overall event will feel a little different in scale, but we're working hard to deliver a comprehensive show that gives printers access to a broad range of international suppliers and comes as close to the experience they've come to expect, while also offering a Covid-safe environment to do business in.
With extensive health and safety precautions in place, I'm confident that a day or two at Fespa Global Print Expo and European Sign Expo 2021 is still the best way to discover the latest technologies and materials and unearth new ideas for business development and growth.
What will be the 'key selling points' of this year's event?
As always, Fespa Global Print Expo and European Sign Expo will highlight the latest developments in screen and digital wideformat print, textile print and signage, along with areas focused on more niche applications, printing and finishing equipment, software solutions, media and inks.
This year we're delighted that our Printeriors feature will return, highlighting a host of creative interior décor applications. Our Wrap Masters feature will also be speeding back into the show, featuring training workshops, demonstrations and the action-packed European leg of the vehicle wrap competition.
During Covid the absence of exhibitions has seen many companies releasing new products outside the traditional events calendar. Will this trend continue and has the relationship between exhibitors and exhibitions changed?
The key message we're hearing from suppliers is that they're keen to get back to meeting customers and prospects face-to-face and sharing their products and innovations in a trade show environment, which is so much more meaningful than the virtual alternatives.
In addition, our research shows that visitors want to get close to the technology – to touch and try and to speak one-on-one with product and application experts. It's fundamental to theirresearch and buying process, and the appetite for investment is definitely there, despite the challenges of the pandemic.
I think we can all relate to the appetite to get together in person again, to nurture relationships in the real world, and to tap into a collective optimism and positivity about the future – that's summed up in our strapline for the event – 'Bringing Colour Back'.
We have also seen a boom in webinars, online conferences and even a fledgling virtual exhibition. How will 'real' events have to adjust to this competition?
Virtual meetings and events have certainly played an important role in recent months. Buyers need platforms where they can easily gather product information and ask questions. In this sense, virtual showcases can be valuable, which is why we introduced Fespa Innovations and Trends.
However, as mentioned above, going back to the core value of exhibitions, visitors want to be inspired by new technologies and solutions and to spark real-world conversations. Therefore, I see virtual events continuing to play an important role in enabling printers to browse and review products but events will always deliver an experience that cannot be replicated online.
I don't see the true value that events deliver changing but, until we have a clearer picture of the 'new normal' after the pandemic, I do expect that the format of future exhibitions will vary, and we will certainly see hybrid elements in most business events in the future.
What trends are you expecting to really take centre stage at Fespa?
Visibility of trends and emerging applications have always been vital to our community, and a key factor in the dynamism of all Fespa events. Now, as we establish the much-anticipated 'new normal', it's business-critical.
The pandemic has sharpened many entrepreneurs' focus on areas including process efficiency, automation, web ordering and sustainability, for instance. Many businesses have survived the loss of traditional revenue streams because they've had the ingenuity to flex their production capabilities and turn their skills to alternative applications. I think that continued diversification stands to be a priority for many and at Fespa 2021, there will be ample opportunity to explore new application areas.
---
We've covered what vistors to Amsterdam can expect from the show and its organisers, but what about exhibitors? Here is a brief rundown of some of the company's that will be setting up their stalls in the Dutch capital. 
3A Composites will be displaying a range of substrates that it provides, including its Dibond aluminium composite panel, Smart-x, Kapa lightweight foam boards, Lumex and Hipex (APET and PET-G polyester sheets respectively) and its enlarged range of Dispa paper boards.
New varieties of this product include Dispa outdoor, suitable for short‑term outdoor applications, and Dispa canvas, featuring high‑quality covering layers on both sides and an additional thickness of 2.4 mm. All products in the Dispa range are made of FSC certified paper (FSC® C127595) and are completely recyclable.
Agfa will be showcasing its flagship 3.3m Jeti Tauro H3300 UHS, which will be printing live on stand. Affectionately known as 'The Beast,' the machine is available in four or six colour versions and is able to print on both rigid boards and rolls.
The company will also be bringing its new Oberon RTR3300 dedicated 3.3m wide roll-to-roll printer, designed to bridge the gap between the Anapurna LED range and the Jeti Tauro high-end presses, and the recently launched Avinci CX3200 dye-sublimation printer. Finally visitors to the stand will be able see the company's Asanti 5.0 workflow for inkjet printing.
Bergertextiles will be attending the exhibition for the 12th time, on this occasion introducing 'the Elements of Digital Textiles,' a 'periodic table system' the company has developed to make it easier and faster for customers to select the right products for their applications.
The German business says that the system is unique in the industry and that it 'clearly clusters products according to their intended application.' It will also present new developments for lightboxes, blockout, and roll-up applications, as well as sustainable products made from recycled PET plastic bottles.
The Colorado 1630 and Arizona 135 GT printers will be on display for the first time at a live international event on Canon's stand. The company said that its hopes to highlight how its solutions can enable customers to expand into new markets and 'inspire visitors with a vast application range giving sign makers and print service providers a taste of colour.'
Canon adds that the Colorado 1630 will demonstrate how sign makers, commercial printers and print service providers can access all the proven advantages of UVgel technology at a smart investment level.  Meanwhile the Arizona 135 GT is aimed at printers looking to expand into the large format graphics industry or looking to diversify into new applications. Also on display will be the Arizona 2380 XTF.
Dimense's latest 3D wallpaper printing technology will be on full display in Amsterdam. Invented by Lithuanian wallpaper specialist Veika, Dimense's technology is designed to allow for printing on PVC-free substrates up to using water-based latex inks. The finished product is designed to 'combine the best of digital printing' and textured wallpapers to deliver 'fully customised, textured 3D effect prints that visually transform any interior space.'
In order to achieve this, Veika offers the Dimensor S printer, seven types of media (matt, pearl, suede, gold, silver, chameleon, Media Plus) and the inks themselves, all of which will be on display at the exhibition.
Durst will be presenting its P5 portfolio and officially launching the Durst Vanguard in Europe.
After the introduction of the P5 technology platform and the P5 350 and P5 210, this year the company has extended its extended the P5 family. The P5 350 HS is a new high productive printer model which, in conjunction with Durst Automat, the new solution for a fully automated printing workflow by the Durst Software, it creates the path to make customer production processes more efficient. The company describes the P5 as 'an innovative system full of flexibility, speed and efficiency.'
This year Durst has also launched the P5 TEX iSUB sublimation printer, with the abbreviation iSUB standing for 'inline sublimation.'
Taking pride of place on EFI Reggiani's stand will be the new Terra Silver, one of three new textile printing machines the company has launched on 2021. EFI describes the Terra Silver as, 'the ideal solution to get into the industrial printing segment with a short, smart and green process thanks to Terra pigment requiring no steaming, no washing and no stentering.'
The company will also be hosting a press conference on Tuesday 12 October where it will offer a thorough look at all three of those new machines, the aforementioned Terra Siver, the Reggiani Blaze and the latest addition, the Reggiani Hyper.
Visitors to wide-format finishing specialist Elitron's stand will have the chance to check out its Kombo SD+ 31.20 and Kombo SDC+ 31.20. The former is a multi-function, digital cutting table with a 'full range of cutting tools for all digital finishing requirements.' The latter is marketed as a multi-function, flexible, digital conveyor cutting table with full range of cutting tools for both roll and rigid media.
The Italian company will also be presenting its newKombo TAV V2, which it says offers its most advances, full y automatic finishing for for stacks up to 1550mm.
Enfocus will be displaying its PitStop Pro, PitStop Server, Switch, Connect, and BoardingPass products. The company, which specialises in PDF quality control, advanced PDF editing and workflow automation.
General manager Tomas Van Rossom commented, 'In large format, we see even more islands of automation compared to commercial print, and Switch' mission is to connect everything with everything to achieve true automation. FESPA visitors are invited to visit booth 5-M20, meet the Enfocus team, and get all their automation questions answered.'
Mimaki has confirmed that it will showcase a range of its digital, wide-format print and textile printing technology.
This will include the first ever in-person showing of the JFX600-2513 and JFX550-2513 LED-UV large-format flatbed inkjet printers, designed to address the high-volume UV market.
Also on display will be the Mimaki 3DUJ-2207, a small-scale 3D printer utilising UV-curing inkjet technology and the company's '100 Series' which was launched amidst the pandemic as business-enhancing solutions designed to 'meet current market challenges and enable users to drive success despite recent market uncertainty.'
Neschen will be displaying a range of options when it comes to sustainable, PVC-free products. This will include three new ecological products, easyStyle, easy dot PET and the Filmeco Kavalan banner series, which the company says it is 'particularly proud of.'
EasyStyle is a paper-based, PVC-free, self adhesive decorative film which can be used to create '15 different looks.' Easy dot PET is a polyester film with high enough stiffness to enable 'significant material savings.' Finally, the Filmeco Kavalan line includes banners for indoor and outdoor use, as well as materials for lightboxes or facade advertising, and special anti-curling products for use in roll-ups.
One Vision will be teaming up with Canon and Zund to demonstrate an automated, end-to-end workflow from file input through to finishing. The company will demonstrate how a range of products, including signage, wallpaper, giant posters, banners and POS materials can be produced using its own Automation Suite, Canon's printing technology and Zund's cutting machinery.
With the Wide Format Automation Suite, OneVision says that it offers 'reliable, powerful and flexible software for workflow automation of all print products produced in wide-format.'
Roq is set to demonstrate its third generation DTG Machines for the first time. Taking centre stage will be the Roq Now and the Roq Hybrid.
The former is an industrial DTG printer described as a 'fully digital powerhouse' whilst the latter combines DTG technology with screen printing technology. It has been designed to combine 'this new digital technology with high production and quality.'
The latter, meanwhile, is a fusion between screen-printing and digital printing, which allows for the speedy screen-printing method to deal with some of the more time-consuming processes.
Sappi will take the opportunity in Amsterdam to show visitors its expanded range of coated and uncoated sublimation papers. Sappi says that its Transjet Tacky Industrial and Basejet papers demonstrate 'its dedication to innovation – and to empowering flawless work from the latest printing machines so that everyone can make the most of expected market growth.'
The Brussels-headquartered company will also be presenting its inkjet papers for large-format applications alongside its new Fusion Nature Plus containerboard and a variety of silicone-based papers.
SwissQPrint will be presenting what it is describing as its 'latest developments.' This will include neon inks for UV printing that the company says will 'enable eye-catching signage and event applications.'
Also on display will be the speed model of the Karibu roll-to-roll printer for high productivity as well as the option for automatic, double-sided roll to roll printing for the Karibu model range.
The company, which will be exhibiting in conjunction with its international sales partners, says it is 'very much looking forward to meeting the community and exchanging ideas.'
At the Valiani stand, visitors will be able to appreciate first-hand the company's range of cutting machines for the signage and print sectors including one which the Italian firm is describing as 'an absolute novelty.'
On display will be the Omnia, the first Valiani automated machine, designed to automatically feed and contour cut media size up to 60 x 80cm without the need of an operator. This will be joined by the Invicta, which has been designed to be the entry-level Valiani solution and a brand-new member of the Valiani range, a machine which has been developed to cut very thick materials by using a 1 kW Router.