Subliminal printing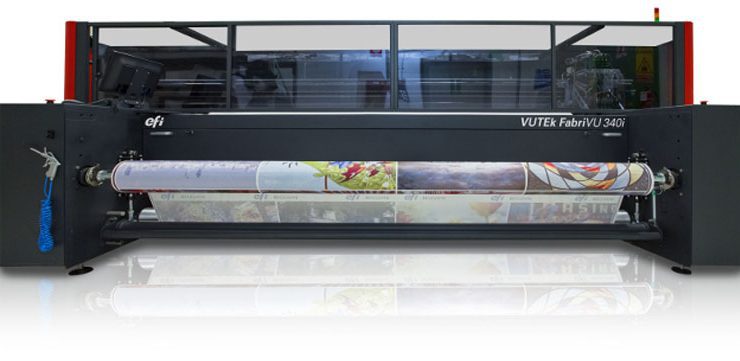 EFI's FabriVU 340i, available in the UK via CMYUK
Every two months Digital Textile Printer sends out an e-newsletter exploring all the latest news and developments from across the most exciting sector in print. The only way to make sure you receive all of our content, including interviews, case studies and analysis is by registering, which you can do HERE.
---
With a range of manufacturers now offering dye sublimation machines, and ever more print service providers adopting the method, Digital Textile Printer spoke to some leading resellers of the technology to find out more
In simplest terms dye sublimation, sometimes known as plain old 'sublimation', is a printing technique that involves heating inks so that they turn into a gas, permeate a substrate and then permanently bond with that substrate as they cool and resolidify. Embedding the ink in this way, rather than just printing it on top of the media, means that the finished print is less prone to fading, peeling, cracking and a multitude of other problems that can arise with alternative methods.
So far so good, but why is now an ideal time for printers to consider investing in dye-sub technology? 'Sublimation printing is an easily adopted process as it generally requires just a printer and a form of fixation, meaning a heat press or a calender,' explains Xpres product manager Grant Cooke. 'Entry-level hardware offers flexibility for low-volume production and personalisation for print on demand, plus the versatility to print to both textiles and rigid substrates such as mugs, coasters and giftware.
'Sublimation printing enables businesses to offer a wide range of applications in house, on demand and in a timely manner; it is perfect for producing sportswear, apparel, soft signage and giftware, all using the same process.'
Alex Mighall, operations manager at RA Smart, adds, 'In terms of textile printing, dye sublimation is one of the fastest-growing sectors, alongside pigment printing. It's also one of the most versatile, allowing adopters to produce a wealth of different products from printed sportswear through to home furnishings, using virtually the same setup. Users who adopt this print method can take advantage of its exponential growth over the coming years and cement themselves as key producers ahead of the curve.'
Head to head
Though able to print onto rigid media, dye sublimation is generally best known for printing onto fabrics. This means that its direct competition, in terms of other printing methods companies might invest in, includes direct to garment (DtG), direct to film (DtF), UV, screen, pigment and heat transfer printing. So what advantages does dye-sub have that really sets it apart from those rivals?
Brett Platt, textiles business manager at CMYUK, highlights the technology's ability to cover a wide range of textile applications, from wide-format signage through to garments and promotional items. 'Sublimation has always had an advantage over UV printing,' he says, singling out one rival method. 'UV printing is a surface print and can change the look and handle of fabric. Because when printing with sublimation you are effectively dyeing the fabric, the look and handle of the fabric isn't changed.
UV printed fabrics also need to be handled much more carefully and can't be folded or you will damage the print; sublimation prints can be transported much more easily.'
Mr Platt went on to say that, historically, sublimation printing was always thought to be harder and a longer process than UV as it was a two-step process, involving both the printing and the calender press. However he says new developments, in particular the EFI FabriVU 340i, available via CMYUK, have changed that. 'The FabriVU 340i has inline fixation,' he explains. 'Meaning that as soon as the print hits the take-up the print is fixed and ready to go into finishing. It's a real game-changer.'
When it comes to comparisons to screen printing, Mr Platt says simply that digital methods, including dye-sub, have 'revolutionised' fabric printing. 'Compared with screen,' he explains, 'digital means designers now have no limitations on numbers of colours, size or design. When printing with traditional screen every design would have to be colour separated with a screen for every colour. This means the process is very expensive even before you have printed a single metre. With digital methods there are also no limitations when it comes to minimum run lengths.'
For his part, Xpres' Mr Cooke comments, 'Sublimation offers the versatility to print both rolls and [individual] pieces, whereas DTG is limited to the size of the platen. Therefore, with sublimation, the pattern for an entire garment could be printed onto a roll, whereas DTG would be limited to a full-front print.
'With screen printing the set-up process makes it costly for short-run production, whereas sublimation simply requires a Rip to send the artwork to the printer and can print any length instantly. With trends changing more rapidly than before, short-run production can be produced on demand, limiting potential wastage.'
When it comes to pigment printing however, Mr Cooke concedes that dye sub doesn't have things all its own way. 'Pigment printing allows for a wider range of fabric compositions to be imaged,' he confirms, 'including cottons and linens often used in the décor markets, whereas sublimation is limited to polyester-rich textiles.'
That isn't to say that dye-sub doesn't have advantages of its own. 'Pigment printing requires specialist coated fabrics that are receptive to the pigment inks that also add durability,' Mr Cooke explains. 'Due to the tensioning required when printing directly to fabrics with pigment inks, there can be a number of metres of higher value textile being wasted – and the pigment coating changes the feel of the textile.'
Mr Mighall focuses on dye-sub's versatility. 'Dye sublimation is quite unique in the textile printing sector because is spans so many different industries,' he explains. 'The method can be used successfully for a variety of applications including fashion, home furnishings, sportswear, and soft signage.
'One of the reasons that it can be used so diversely is the fact that you are dyeing the textile when you print it. For example, if you're looking to print for sportswear, you need something that is going to be extremely robust and not crack under pressure. If you were to use DTG for this process, a print method that lays ink on the surface of the textile, then there's a good chance that print will become damaged over time – especially in contact sports. Whereas with dye-sub, there's no chance of rubbing the print away and the garment will potentially have a much longer lifespan.
'Likewise, dye-sub is also favoured in the soft signage sector because you can achieve high ink penetration – something especially valued when printing flags, where you would like to see the print on both sides of the textile. Another huge benefit for signage providers is that you can fold printed dye sublimation material without damaging it, resulting in shipping that is much more economical and convenient for both the supplier and consumer.'
Rigid applications
Speaking of that versatility, printing onto textiles is far from the be-all and end-all of what dye-sub can do. Mr Mighall continues, 'Aside from some of the applications already mentioned you can also use a dye-sub printer to customise rigid substrates like ceramics, metals and glass. There's an abundance of 'sublimation-ready' products available today that have been pre-treated with a polyester-based coating to allow the process to work. The results are stunning and mean that users can say 'yes' to far more work and diversify their portfolio into lots of different niches, without having to invest in a new printer.'
Mr Cooke agrees, adding, 'Due to the process suiting both textiles and rigid substrates it can open opportunities to supply rigid products to textile customers and vice-versa. For example, a company producing décor such as cushions, throws and curtains could also supply homewares such as coasters, placemats and wall art.'
Mr Platt largely agrees, telling Digital Textile Printer, 'Soft Signage is a big growth area, as are décor and fashion, mainly down to advances in polyester fabrics that look and feel like natural fabrics. Promotional items are also something to keep an eye on.'
Trends
Unsurprisingly for a technology that is still growing in popularity, there is no shortage of interesting developments that our experts are keeping an eye on. Mr Mighall opines, 'One of the biggest things to happen in the dye-sub arena was when HP launched its Stitch range of sublimation printers. Revealed at Fespa 2019, the machines revolutionised the sector and pushed the boundaries of what people thought was possible.
'The key thing was the introduction of thermal print head technology to sublimation, which until then was considered essentially unfeasible. The innovation has allowed people to invest in machinery that allows the end user to change print heads without relying on engineers, maximising their output and minimising any downtime. However, that's not all – the machines are also the only available 160cm solution on the market to be operated entirely from the front, come with a built-in colour spectrophotometer and they have a fully automatic maintenance procedure.'
Mr Cooke highlighted the importance of the environment. 'With green credentials being at the forefront of most business' minds, it is expected that sublimation will
continue to be adopted by more widely,' he said. 'As sublimation uses less water than other processes, it allows for print on demand, plus the development and demand for recycled products and faster/larger printers, it is hard to see demand slowing.'
Mr Platt focuses on inks, 'Epson has just launched its own desktop sublimation printers with Epson inks,' he expanded. 'Until very recently anyone using desktop paper printers would need to buy a standard printer and then buy a third-party sublimation ink conversion kit. The Epson F500 and F100 mean you can now buy a genuine Epson desktop printer that comes with Epson sublimation inks.'
First steps
If all the above has convinced you that dye sublimation is a technology worth exploring, there are of course other bits and pieces you'll need to know. We asked each of our trio what other investments you might need to consider beyond a printer.
'Besides your printer, another key investment is the heat press,' Mr Mighall says. 'There are two main types: flatbed presses and calender presses (sometimes referred to as rotary presses). Flatbeds are good for rigid substrates and textile panels, but they are limited to the size of the platen; for instance, if you have a 50 x 50cm platen then that is the largest print you're going to be able to achieve.
'Rotary presses, on the other hand, are only really limited by their width. If you have a 160cm wide printer and rotary press, then you can print over 100m of textile at a time, no problem. It's worth mentioning, though, that not all presses are created equally and you should consider factors such as drum size, heating setup and unwind/ rewind capabilities when purchasing one – as these will all play a key role in what you can achieve.
Mr Cooke concurs, 'Beyond printers, businesses will need to consider their fixation method. If production will primarily be small items or pieces a flatbed press could be better suited and lower cost. Alternatively, should the production be roll-to-roll, then a calender will be required, available in varying specs to suit the printer and application. Rip software can often be included with the printers but if businesses have a preferred Rip that they plan to use, they might need to upgrade their licence. Finishing equipment can also be a sizeable expense depending on the applications being produced; this could include flatbed cutters and sewing machines.'
In conclusion, there might seem like there is a lot to get your head around when it comes to dye sublimation, but it seems clear that the potential benefits outweigh any barriers to entry.