A fashionable technology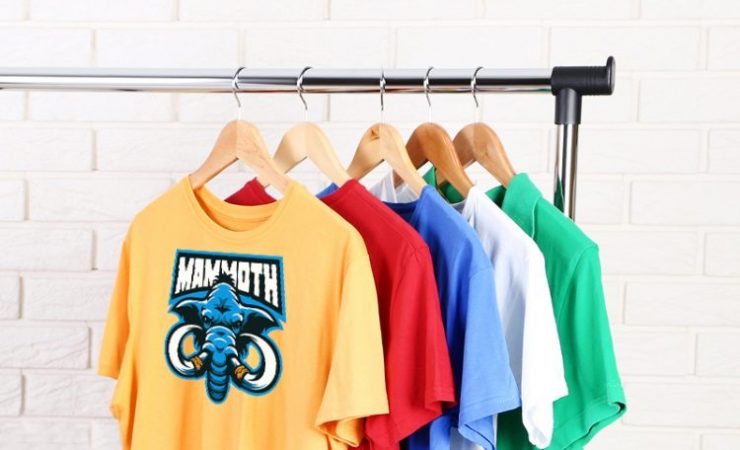 DTG isn't limited by the colour of the fabric, these shirts were printed using Epson technology
Every two months Digital Textile Printer sends out an e-newsletter exploring all the latest news and developments from across the most exciting sector in print. The only way to make sure you receive all of our content, including interviews, case studies and analysis is by registering, which you can do HERE.
---
Direct-to-garment (DTG) printing has been 'one to watch' for printers for some time. But the seemingly exponential growth of e-commerce platforms, coupled with consumer demands that it is tailor made to meet, means DTG is now taking its place at centre stage.
Digitally printed textiles is a booming market place, driven by consumer demands for personalisation and sustainable products, the rise of e-commerce and ever-improving technology. But if a company was looking to break into the area, why should it choose DTG printing over one of the alternative methods such as screen, dye sublimation, heat transfer or direct-to-film?
First and foremost, the technology allows for short run, quick turnaround, multicolour printing, fitting current consumer demands down to a tee. It can also do all of this on dark fabrics, something that dye sublimation struggles with. DTG boasts sustainability benefits (less waste, water-based inks, reduced transport costs and more) and it can also handle longer runs than you might expect.
Admittedly, when those long runs spill over into the thousands, screen printing still dominates. But, as with so many print sectors, run lengths are consistently falling and, compared to screen, DTG requires a fraction of the set-up time, is far less labour intensive and doesn't need operators with anything like a comparable level of skill.
In short DTG technology allows print companies to produce personalised work, on-demand and at short run lengths. There is no need to produce work until it is sold and the days of retailers having to store huge amounts of stock, and to have discount sales when they can't shift that stock, could soon be a thing of the past.
Of course, there are still things that DTG can't do as well as alternative methods. It is currently limited to printing onto flat surface areas and within a set sized platen, and its durability and ability to produce true continuous tones doesn't match up to dye sublimation. DTG is also largely limited to printing onto cotton or cotton-polyester blends, though it is more effective on the former. Some systems are tackling printing direct to polyester; however problems remain when it comes to dye migrations. Finally, when the print runs are in the thousands it is still far behind screen when it comes to cost per print.
Who's buying?
Even so, when all of this is taken into account DTG technology should certainly be on the radar of both printers looking to diversify into textiles and those already involved with textile printing but exploring alternative methods. Digital Printer asked several leading suppliers of DTG equipment where they saw the most enquiries coming from.
'Interest in DTG comes from a number of places,' says Grant Cooke of Xpres. 'Many garment decorators have been using cutters or print/cut solutions and find they are limited with intricate detail or handle of the print. Other businesses, such as screen printers, are finding that their volume orders are slowing down and they need to offer short-run production. There is also a growing number of print-on-demand fulfilment businesses expanding their DTG stations to keep up with demand.'
For his part Maneesh Patel, director at DTG Solutions (Part of the DPS Group), said that he sees interest from 'All areas – every business needs to look outside of its core offering and provide existing and new customers with more options. With relatively little training, a digital PSP can quite easily add DTG to its operation and very quickly start offering short-run, personalised garments on-demand.
'This will set them apart from the competition and position them as more than a 'one stop shop.' The low-cost investment can be paid back in a relatively short period and, if successful, the business can add further DTG printers to meet demand. Many traditional screen printers have been adding DTG to their offering so they can offer the best of both worlds.'
Amaya's Julian Wright says that it is more common to see existing textile printers moving into DTG than commercial printers venturing into textiles. 'However,' he adds, 'we are seeing more and more wide-format printers and historic printing houses looking to step into apparel. Some companies that have just dabbled might look at a bigger investment as well. These companies understand production and they aren't afraid of the technology. They often have a huge customer base and if they already offer something like promotional print, adding apparel into the mix is a perfect fit, especially with the return of events and exhibitions.'
Of course it isn't always that simple, as Mr Wright explains. 'When we first added DTG to our offering (at the time Amaya was heavily involved with supplying embroidery equipment) we assumed workwear companies would be interested in these systems. Instead we found that the fit wasn't quite right because workwear firms constantly deal with different substrates or customers with different requirements like waterproofing. They are interested in print, but DTG isn't necessarily the best fit. Where DTG has really taken off is with smaller, independent brands in the fashion world, particularly those that only want to print what they sell.'
A perfect storm
It's no surprise that so many different people are expressing an interest in what DTG has to offer given that a myriad of factors have come together to make this an ideal time to investigate the technology. Mr Wright expands, 'The pandemic did create something of a perfect storm for our industry. The print-on-demand market has been doing well for a number of years, but the pandemic really shone a light on it as consumers were forced online to buy pretty much everything other than food. Certain demographics that had resisted buying online in the past were forced to embrace it and learned how easy it was. We're not at the same level that we were when lockdown was in full swing, but the average level of online purchases remains significantly higher than it was pre-pandemic.
'What companies are after, therefore, is equipment that complements this trend, that allows them to react almost immediately to orders coming through online and lets them provide high-quality, just-in-time print. We all know how impatient consumers can be, the Amazon model means people want their goods delivered next day regardless of whether that is strictly necessary. DTG's ability to provide this sort of service is only just being uncovered by the market, but big retailers are now starting to pay attention.'
Mr Patel covers similar ground when he says, 'The pandemic has given companies the opportunity to consider ways to refresh their service offering, develop broader application possibilities and expand their production horizon. At the same time market predictions are bullish with Future Market Insights predicting the global DTG printing market will reach $2.31 billion by 2023, up from $1.86 billion in 2018.
With simple-to-operate, plug-and-play DTG systems the process of integrating DTG into an operation's existing production platform is made easy.'
Mr Cooke makes it a full house when he adds, 'DTG has definitely benefitted from lockdowns, the adoption of e-commerce and growing awareness of sustainability. Many consumers have adopted to purchasing online during the lockdowns and this should ensure that DTG printing remains sustainable moving forwards, as purchases are printed on-demand. Furthermore, sustainability has developed into a higher priority for many businesses and consumers and, given that DTG doesn't create waste and can be used to produce just-in-time, it certainly fulfils the environmental needs.'
Other equipment
Of course, it isn't as straightforward as simply installing a printer and pushing 'go.' There is additional equipment and technology that you will need in order to establish a DTG operation. 'It is worth considering the method of pretreating dark garments,' Mr Cooke advises. 'Pre-treatment machines are relatively low cost, but compared to hand spraying, they provide an accurate and even coating, vital to ensuring a high-quality print. Curing printed garments can also often be overlooked. A drying cabinet can sit below the printer and cure the garments once printed, or a tunnel can be used for volume production.'
Mr Wright adds, 'You need to understand what you're looking to do. What is your business model? What are your aspirations? Your workflow will be vital and you need to consider how you will generate artwork, how you will dispatch the finished product, how you will handle financial transactions. It's not just about the printer, you need an end-to-end solution to succeed in this business.'
Breaking through
Of course there are an awful lot of things that companies might need, or at least want, to succeed. But if our contributors could only offer one piece of advice, what would it be?
'Arrange a demonstration where you can print onto your own garments,' Mr Cooke says. 'Not all garments are made equal and this can have a huge impact on the print quality.'
'Ensure any printer you buy is manufactured and supported by a global brand and isn't one that has been created using someone else's internal printer parts,' Mr Patel offers. 'In the early days the DTG market was awash with small companies building their own systems which invariably resulted in many maintenance/reliability problems and also long-term garment quality and ink retention issues. Nowadays, with the likes of Epson creating fully tested, supported and clean DTG printers, those issues are no longer apparent and the price is often competitive as well!'
Mr Wright advises people to consider their price points. 'They really do matter,' he says. 'You need to have a viable business. People in DTG can benefit from good margins, especially in the realm of B2C. When you look at the wholesale price of a T-shirt and the potential mark up, there's no need to go in too cheap. I say this because once you've set your prices, you're never going to be able to get them up.'
To finish things off, Digital Printer took the opportunity to ask each of our DTG gurus about the breakthrough, or potential breakthrough, in DTG technology that has got them the most excited.
'DTG still has a lot of potential for development,' Mr Cooke said. 'But recently machines have been increasing output through increased speed or multiple platens. However, developments in pre-treatment and DTG optimised garments could really move the market forwards.'
Mr Patel added, 'Among the most exciting developments, because of the implications on broadening the market possibilities, are the recent advances in printers and inks that allow support for polyester, as well as synthetics.'
Mr Wright concluded, 'Advances in workflows and how companies can really optimise the efficiency of their operations. It's something everyone from start-ups to big enterprises should be looking into! I should definitely also mention the Kornit Max however, its 3D capabilities and the decoration possibilities have the potential to eventually upend the market.'