The gold standard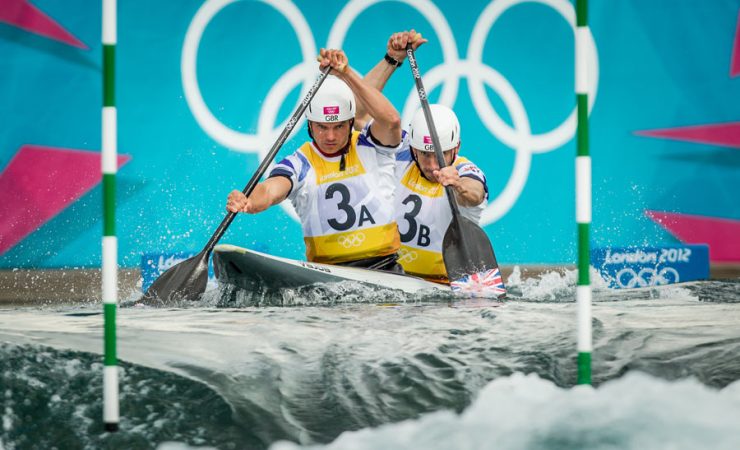 Competitors wearing Peak UK products won nine out of 12 possible medals in Tokyo this year
Every two months Digital Textile Printer sends out an e-newsletter exploring all the latest news and developments from across the most exciting sector in print. The only way to make sure you receive all of our content, including interviews, case studies and analysis is by registering, which you can do HERE.
---
A water sports equipment company specialising in canoeing and kayaking might not be the most obvious place to find new ground being broken when it comes to dye sublimation printing, but Pete Astles and Peak UK have been doing just that in conjunction with Roland DG and some Olympic quality athletes.
'It's a little like Ferrari being so involved with Formula 1. It might not be the biggest money spinner in and of itself, but it helps the company raise its profile and promote its other products.' That's the analogy Pete Astles uses to describe his company's relationship with digital textile printing.
At the last three Olympic games (London 2012, Rio 2016 and Tokyo 2020) products produced and printed by Peak UK have been on full display.
The company, based in Derbyshire, hasn't just produced some products boasting vibrant designs, but garments that actually gave a boost to the athletes wearing them. 'We haven't provided marginal gains,' Mr Astles chuckles. 'We've provided some really quite substantial ones.'
The background
Peak UK was set up 32 years ago after Mr Astles, at the time an aspiring kayaker training at the National Watersports Centre in Nottingham, was struck down with glandular fever. 'I had to rest up for six months,' he explains, 'and I went from training twice every day to no training at all. At the time, however, I was working in a local canoeing shop. During those six months I realised that a lot of the products we were selling in that shop weren't exactly of the highest quality.
'A lot of my friends were athletes in watersports and a couple of others understood sewing machines. We played around with making garments specifically for watersports. I knew the right people, word of mouth spread and eventually I borrowed some cash and started my own business, aged 20, selling specialist canoeing products for athletes. Early on I produced everything myself, but gradually, I was able to move into larger premises and hire staff.'
2012
By the time the 2012 London Olympics rolled around, Peak UK was a well-established company that had branched out into digital printing. 'When the Olympics came to town we knew we wanted to produce something really special,' continues Mr Astles. 'Throughout our history we'd provided slalom garments for top athletes but for London 2012 we wanted to go further. I already knew about dye sublimation technology, largely because it is so prevalent in the cycling industry, but I thought that if we invested in it then we would be able to provide custom uniforms for national teams in whatever designs and colours they wanted.'
The company invested in a Mutoh dye sublimation printer and a 'massive' heat press, as a result producing what Mr Astles calls 'some very nice products.' 'All our fabric suppliers told me it wasn't possible,' he laughs. 'That given the nature of the competition, regulations and requirements that we just couldn't produce fabrics for that environment.'
This is perhaps understandable, after all printing onto simple polyester, as you would for a cycling uniform, is fairly routine. But kayaking and canoeing uniforms need to be waterproof, breathable and are made up of multiple layers that are then laminated together, featuring a variety of straps, buoyancy aids and more. 'In the end we found a way,' Mr Astles said. 'We produced some really, really vibrant garments and we saw members of Team GB win both gold and silver medals wearing our products.'
The team at Peak UK also needed to overcome the problem of printing onto PU coated fabrics, where a polyester or nylon base fabric boasts a waterproof polyurethane coating or laminate. 'It gets sticky,' Mr Astles explains. 'But you've got to find solutions. Our fabric supplier said they couldn't make the product to our specifications and we ended up having to source a silicone option from Holland. The lesson is, if at first you don't succeed, just try and try and try until you do! You have to refuse to take no for an answer!
2016
Four years later the Olympics made its way to the Brazilian city of Rio de Janeiro and Peak UK was looking to up its game even further. 'When it comes to the canoe slalom, there are poles competitors have to avoid or else they incur a time penalty,' Mr Astles adds. 'We decided that we were going to halve the thickness of the actual lifejacket, which involved repositioning all of the buoyancy within it. We patented our design and submitted it to the International Canoe Federation (ICF), who actually did everything they could to block us.
'We'd been working very closely with Team GB and it was clear that the product we'd produced was going to give one nation a very clear cut advantage… but we'd followed every rule and the product was eventually approved. Joe Clarke won gold in Rio wearing one.'
Naturally once the Olympics was over, and it had been demonstrated just how impressive the garment was, athletes around the world clamoured for their own and Peak UK's days of working in secret with Team GB came to an end.
However the company's work won the Roland Hero Award, which recognises members of the Roland community, shares their stories and aims to inspire others to make a change through their technology. Mr Astles also won a trip to Thailand, courtesy of Roland, as a recognition of his efforts.
2020
Ahead of the 2020 edition of the games, this time taking place in the Japanese capital, the ICF threw a few more hurdles into Peak UK's path. The team wasn't cowed however. 'We thought we would go further and remove the buoyancy from the front entirely,' Mr Astles outlines. 'We also made the textiles strong enough that we could get rid of all the straps on the body. This time the goal was to supply all the teams as we'd built up a big customer base so we couldn't favour Team GB and burn all those bridges.
'We were told we needed to submit our design before 1 January but we didn't hear back from the ICF until 14 February. I remember the date because it was the same day that I left to go to Thailand as part of the Roland Hero Award prize!'
Of course it was around this time (early 2020) that the Covid pandemic struck, throwing plans for the Olympics into chaos. 'The buzz around the new product went away for a while,' Mr Astles concedes, 'but it came back around in 2021. This time we supplied 32 different nations for the Olympics, with all of the products printed on our Roland XT 640. Our products won nine out of the 12 medals being contested in the canoe slalom event in Tokyo."
'For the 2016 work we had a Roland RT 640, but the XT 640 is much quicker and allows us to print roll-to-roll rather than in single panels. I wanted to stick with Roland because they have been super reliable, in all the years we've worked with them we haven't had so much as a misprint.'
The future
Going forward Mr Astles isn't sure how much more innovation will be possible moving forward into the next Olympics in Paris 2024. 'The governing bodies don't really want innovation. We like it, but they're not fans! The rules have been tightened considerably. It's all very silly because we're one of very few companies that produce these sort of products for this level of athlete… we'll continue with the product and bring out new models, but I'm not sure there will be such a big leap forward every four years as we've managed in the past. We are very passionate about our sport and products and we're always innovating, so I'm sure we'll find a new niche to excel in though!'
Those products are available from the Peak UK website, where the company allows anyone and everyone to customise their designs and have their custom garments printed. So whatever happens with the Olympics, digitally printed textiles are here to stay in the watersports world.