A printing odyssey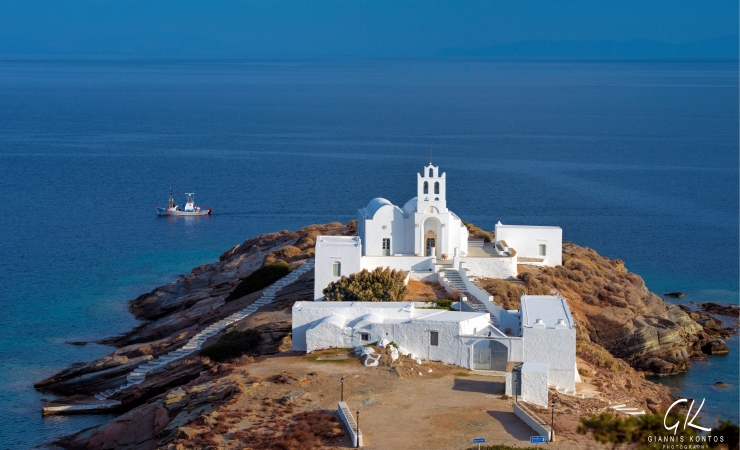 Only around 2500 people call Sifnos home, but they get to enjoy some of Greece's best views. This picture is Giannis Kontos' own work.
Many printers have thought about branching out into garment printing, only to be put off by a lack of expertise, fears about the expense or worries about finding customers. But the route into this burgeoning sector can be a lot more straightforward and cost effective than you might think. A fascinating story from Greece proves this nicely…
The isle of Sifnos lies in the Aegean Sea, about 120 miles south east of Athens. It's home to only around 2500 people, but one of them is Giannis Kontos, a native of the isle who has moved seamlessly from photography, to personalised gifts, to garment printing.
'I set up my business more than a decade ago,' Mr Kontos told Digital Textile Printer. 'I started off providing photos and videos at events such as weddings and also owned a brick and mortar building where I sold my work. From the beginning I also offered certain printing services.
'Over the years I've offered custom mugs, bags, postcards and more, all on top of my own photography. I also used to produce printed t-shirts using the vinyl technique.'
Over the course of the last ten years Mr Kontos has repeatedly demonstrated his entrepreneurial spirit, branching out into drone photography, architectural photos and live streaming. Most pertinent for us though, was his decision to delve into direct-to-garment (DTG) printing in 2019.
Polyprint
Naturally, Mr Kontos conducted his due diligence before taking the plunge, and again before deciding who he would turn to for technology. 'I conducted thorough research and decided to go with Polyprint,' he explains. 'From our first communication they were very professional and helpful. It was clear to me that they had the know-how to guide me through the whole process and the fact that the company is based in Greece made the interaction easier.'
Polyprint, founded in 1976, is a specialist in digital textile printing, with its flagship product being its Texjet brand of printers. Demand for its products and services has grown to such an extent that, toward the end of last year, the company opened a new North American subsidiary, based in Charlotte, North Carolina.
Mr Kontos opted for one of the company's TexJet Shortee2  machines. An entry-level DTG printer designed to be easy to use and maintain, the Shortee2 is available for €8485 (a little over £7000) and boasts a print area of 30 x 45cm. It is capable of producing up to 60 customised t-shirts in only 2 hours. Polyprint says that, if handled right, it will pay for itself within its first quarter of operation.
Expansion
The printer arrived on Sifnos early in 2020 and Mr Kontos was full of praise for the way Polyprint handled the installation. 'Despite my business being located on an island they sent a certified technician for setting up and for training. The whole process went smoothly and after sales support was impeccable.'
Of course what really matters is what Mr Kontos has used the machinery for since it arrived. Initially he was eyeing up custom hoodies and t-shirts, but the impact of Covid has been felt even on small Greek islands. 'When the pandemic came I started using the printer to produce personalised masks,' he says, 'this led to a series of other unique products like bags and purses.'
Textile printing (Mr Kontos is able to print either onto 100% cotton or 50% polyester) has opened a whole swathe of doors for this small company, as well as putting it in touch with new markets. Mr Kontos explains, 'All the above, coupled with a strong marketing campaign, brought me new customers not only from Sifnos but also from nearby islands and then the rest of Greece. There is also a dedicated eshop on my website which has been instrumental as well.'
With that in mind, it's hardly surprising that Mr Kontos feels bullish about the future of textile printing and encourages others to consider moving into it. 'I think that there will be many uses for DTG printing in the future,' he concludes, 'I would like to explore these alongside more complex products and different textiles.
'One should go for DTG printing as there is a potential for new business. However thorough research is needed to decide which model suits one better and you should definitely have a concrete business plan to promote it.'