Talking Textiles: The next generation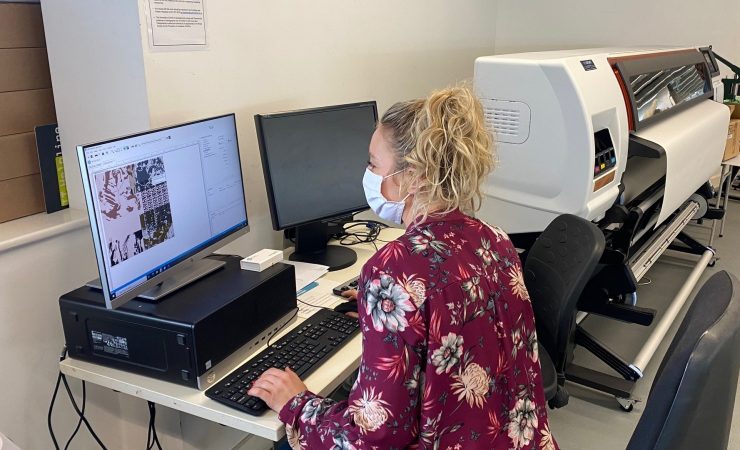 The HP Stitch S300 installed at Northumbria University's Faculty of Art, Design and Social Science
What can the digitally printed textiles industry do to raise awareness of what the technology is capable of? Whether that's for young interior or fashion designers, members of the wider textiles industry, or even textile printers unfamiliar with digital technology.
---
The Ambassador's View
Debbie McKeegan – FESPA textile ambassador and CEO of TexIntel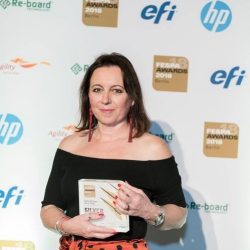 Understanding the challenge is a good place to begin: The Textile Industry as a whole faces an exciting, yet challenging future. The supply chain is switching to an on-demand business model and the learning curve is steep. The pathway to a digital future isn't an overnight fix, there are thousands of touchpoints in each and every fabric that we use, printed or unprinted, all of which affect end use and specification. Moving over to digital printing is just one part of the textile workflow. To successfully navigate digital textile production, you have to understand the textiles that you print onto, how they behave and the marketplaces/products they serve. Knowledge transfer is a must, we must invest in both human resources and digital applications – silos don't exist in a digital workflow, information must travel with ease and accuracy to achieve digital efficiency. At all tiers of production, across the supply chain, we have to invest our time to improve both communication and collaboration.
How do we raise awareness of what the technology is capable of? We have to become transparent, share our knowledge and experience freely at all levels, from the CEO to the graduate and beyond into the wider textile community. Establishing mentors, encouraging knowledge transfer and educational pathways will ensure that the unspoken nuances of textile sourcing, product design and manufacturing are explored and documented. Even now, some twenty-five years of so after the birth of ink jet, it's difficult to find information of digital process – that has to change and that's why we founded Texintel – as a resource for the industry.
If we are to build a sustainable textile industry using digital technologies, we have to collaborate at every tier of the supply chain, with all industry practitioners and textile disciplines –  to ensure that we accelerate digital disruption. Only by investing in the next generation and by giving them the freedom to make sweeping changes to established workflows, can the textile industry evolve.
---
The Designer's View
Beth Travers – head od Bobo1325, an award-winning Manchester-based design house specialising in interiors.
The short answer to this is: work with them.
Being an ambassador for Your Print Specialists in Newcastle I was lucky enough to attend Sign and Digital with them in March. For me, it was eye opening and incredibly exciting to see the new technology and innovation from within the print and technology industry. What really struck me with the show, and other print and technology shows I've been to is that you have these incredible print giants like Epson and HP, Mimaki etc. who have extraordinary machines but they're printing some uninspiring stock image from a quick trip to Getty or Shutterstock. Print shows, in my opinion, should never have more whitespace than colour, you sell printers, but they print in colour, why be ordinary when you can be extraordinary. I wanted to get excited and see just what these machines could do, and I believe that in working with the end users of their products you get us excited, and the companies get excited. Creatives love to learn, experiment and push boundaries, but unless we know about them, we can't do that. Teach us, is it sustainability driven? What's the environmental impact? get us excited, show us what you and your product can do, and we'll show you what we can do. It's about collaboration, it's about synergy. Let's raise the bar together, it's one of the things I love most about YPS because they see this, they believe in it and year after year they deliver. Your audience and your market are creatives, we aren't the specialists so if we're attending shows, we need to SEE we need to be wowed, all the jargon will just get lost amongst the noise. Banish the whitespace and stock images and harness your end users.
---
The Educator's View
Kenny Macrae – technical manager, fashion and textiles, Northumbria University's
It has always been the case that in order to succeed, creative education courses have to be seen to be at the forefront of technology and innovation. Helping to teach and empower students to take this progressive knowledge back into industry.
At Northumbria School of Design, we are fortunate to have access to both an HP Stitch DyeSub and a Mimaki TX3 set up with reactive inks. This mix enables us to work across the vast majority of substrates, covering the outputs and needs of both our undergraduate and post grad/research-based cohorts.
Historically operated within our award-winning Fashion Department recent times has seen us forced to think and operate differently. From lockdown and on into the post COVID world the speed, remote connectivity and 'instant' nature of these machines allowed us to implement a more multi-disciplinary approach, with work being produced across all our specialisms from Fashion and Interior Design to 3D and Graphics. Helping a broad range of students get physical work produced while being offsite, meeting their learning outcomes and creative goals.
As we move forward many of these ideas remain in place, peer mentoring means the more students see the machines being used the more want access, something I believe is vital in ensuring that we get the most from this kit.
We often rely on word of mouth and our own networks to find out what is going on within industry, I feel manufacturers could do more to inform us of what's out there and available, explore collaborative and research-based projects with education, looking to push the boundaries of what existing technology can do and pushing forward with what the next generation of machines are going to bring.
Loan machines out, offer sponsorship, placements, competitions,  studio and offsite visits, demonstrations, all helping to expand knowledge, encourage experimentation, creativity and develop partnerships with educators and students alike.  After all the students of today will be their clients of tomorrow.
Sustainability and environmental impact are also vitally important to both us as an institution and our students. Less toxic inks, less need for water, a smaller footprint and an ever-increasing range of recycled substrates all help contribute to the successful use of these machines and while I would never want them to fully replace tradition and craft, they now sit equally alongside this as part of the tools we use to build our creative future.
---
The Manufacturer's View
Phil McMullin – pro graphics head of sales, Epson UK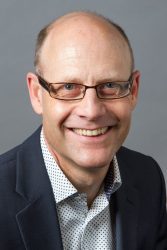 At Epson we are focusing a great deal of activity on raising awareness around digital technology's ability to deliver high quality on-demand textile production.
What we're finding is that more and more universities are introducing or expanding the role of dye-sublimation printing into their textile, design and fashion courses. This allows the students to get a better understanding the digital print production process and how it can influence design and execution. It enables them to reframe their designs, test their ideas and bring their final creations to life. It helps them to set their imagination free.
Birmingham City University understand this, and are equipped with a range of different Epson dye-sublimation printers, including the SureColor SC-F9200 and SC-F100 plus the SC-F2100 DTG printer. This year Epson sponsored their Design in Context Award, which gives us a great chance to explore and celebrate how dye-sublimation is being used as an experimental method to print onto textiles. The winner, Maria Begum, received an Epson SureColor SC-F100, our A4 desktop printer, which is a fantastic tool for exploring the possibilities of dye-sublimation.
Universities are becoming increasingly vocational, and there's so much that dye-sublimation can teach not just in terms of creative exploration but creating local production hubs and minimising the environmental footprint for textile products to create a more sustainable benefit. And by involving young and hungry minds at an early stage and providing a clear understanding of the possibilities the technology enables, we can support them as they investigate what the next steps could be.
'This knowledge will help them be better prepared for their next steps after college,' comments Rehana Khan, a lecturer at West Herts College who recently had a SureColor SC-F501 installed in their fashion and textile department. 'It will enable them to be further ahead in the game. Not only will they understand the process and how that can affect design but also how it can shape ordering, respond to demand, and address questions around sustainability.'