Getting back out there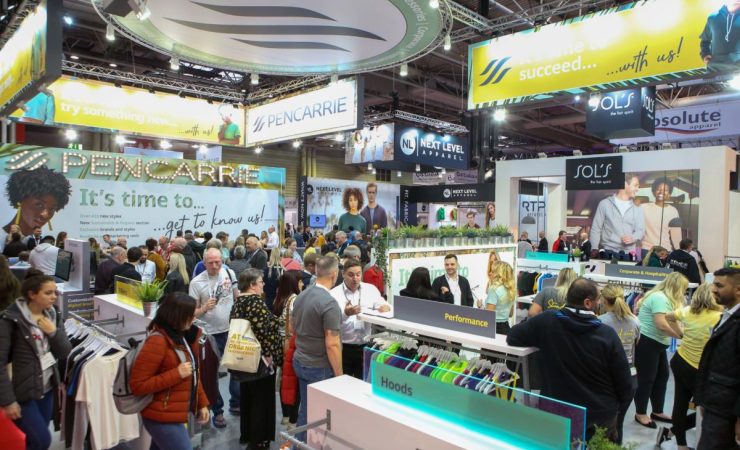 The organisers of Printwear & Promotion are expecting more than 5000 people to pass through its doors this year
After almost two years of lockdowns, travel restrictions and just general confusion, 2022 seems set to be the year that in person events return with a vengeance. What can visitors to Sign & Digital, Printwear & Promotion and Fespa expect to see?
Every sector of print has been rocked by the slew of exhibitions postponed and cancelled over the past 24 months, but for an emerging, dynamic area like digital textile printing, the impact has been particularly pronounced.
But with the pandemic, or at least the very worst of it, now behind us, the industry can look forward to once again coming together to hear from expert speakers, examine the latest technology and network with peers.
Sign & Digital
The recent Sign and Digital exhibition at Birmingham's NEC was one of the industries first opportunities to gather together. Taking place from 22 – 24 March the event proved to be a great success, with plenty of visitors, almost all of whom reported a positive atmosphere and a worthwhile trip.
There was a range of technology and machinery on display of interest to textile printers, including several of Epson's SureColor printers. On the company's stand was the SureColor SC-F500 dye-sublimation printer and the SC-F2100 with heat press. 
Hybrid Services, Mimaki's exclusive distributor for the UK and Ireland, headed to the Second City with what it called 'a raft of new product launches' from the Japanese manufacturer. This included models from the Mimaki 100 Series – which incorporates solvent, UV and dye sublimation inks in a 1.6m wide entry level platform – alongside the launch of the Mimaki UJF MkIIe Series of flatbed LED UV printers.
Josero showcased an array of different technologies, and will also be welcoming a diverse group of partners to its stand. The tech included the Ricoh Latex L5160e, the BubbleFree Applicator Table and a Mimaki UJV100 1.6m LED roll to roll UV printer.
RA Smart's textile printing specialist Alex Mighall told Digital Textile Printer that his company was 'incredibly excited' to be returning to Sign & Digital this year in the specialist Textile Tech area. The company brought along the entry level Mimaki TS100-1600 dye sublimation printer and the more industrial HP Stitch S500.'
Roland DG displayed its new VersaStudio BN-20A, the Versa UV series' LEF2-300, LEC2-640 and LEC2-330S-B200 and the CAMM-1 GR2-640 vinyl cutter. The VersaStudio BN-20A is a compact 480mm print-and-cut width eco-solvent device suitable for stickers, labels and heat transfers for garment printing. 
On top of this, recognising the potential of the sector, the organisers added a brand new learning zone dedicated entirely to textile printing and finishing. It featured applications, equipment demonstrations, skills workshops and talks from expert speakers.
There was also the 'Textile Tech' exhibitor trail, another innovation introduced for 2022, which lead visitors around the show, making sure they could take in everything they need to stay on top of the market. Company's taking part in the trail included InkTec Europe, Hybrid Serices, The Magic Touch, YPS, Amaya and QPS.
Printwear
Following hot on the heels of Sign and Digital will be Printwear & Promotion Live!, which will also take place in the Second City. The UK's only event dedicated to garment decoration has been pushed back repeatedly thanks to the pandemic, but is finally set to take place from 24 – 26 April.
There will naturally be a wide range of stands of relevant to our readers, but direct-to-film printing (DtF) seems set to really steal the limelight this year.The process, which uses a specific kind of water-based ink to print a film transfer, which is then transferred directly onto the substrate, is being positioned largely as an alternative to direct-to-garment printing.
Both The Magic Touch and Resolute DTG will be showcasing the R-Jet PRO DTF – a standalone wide-format printer, with The Magic Touch bringing the new Mutoh/STS VJ-628D printer as well.
Other relevant stands for those interested in direct-to-film printing will include RA Smart, who will be demonstrating their own solution, and YES Group, who will be introducing the new DTG Q Series, a hybrid DTG and direct-to-film printer. Finally J&B Sewing Machine Co will be demonstrating how users of the Epson SureColor SC-F2100 and SureColor SC-F2000 can transform these machines into direct-to-film printers.
There will also be plenty to see when it comes to DtG, screen and transfer printing as well. For instance Roland DG will be debuting its Texart XT-640S-DTG, a multi-station DTG garment printer that prints full-colour graphics directly onto cotton-based T shirts and apparel in as little as eight seconds.
Elsewhere MHM Direct GB will be demonstrating the Brother GTX600, which its says is the first DTG printer designed specifically for mass production, and Xpres will showcase the Epson SureColor SC-F3000, a production-level machine that can produce up to 60 full platen dark T shirt prints per hour.
There will also be plenty of machinery on display when it comes to embroidery, with almost 20% of all stands at the show set to have some form of embroidery equipment and supplies on display.
Fespa
Fespa Global Print Expo 2022, Europe's leading exhibition for screen, digital, wide-format and textile printing, will take place from the 31 May to 3 June 2022 at the Messe Berlin in Germany. Hundreds of exhibitors will descend on the German capital to showcase their latest innovations and product launches across graphics, décor, packaging, industrial and textile applications at an exhibition spanning across 8 halls.
Co-located with the European Sign Expo, the organisers say that the two exhibitions will bring together 'the strongest line-up of exhibitors' the events have seen since 2019. There are currently more than 250 companies contracted to exhibit, including many who were unable to attend last year's event in Amsterdam, with 'many more active discussions in progress.'
Michael Ryan, the head of Fespa Global Print Expo, commented, 'It's so motivating to have such a strong vote of confidence from the supplier community for Fespa and our power to reinvigorate the speciality print industry after the challenges of the last two years. Suppliers who joined us in Amsterdam in October 2021 were reminded of the unique value of live events and the commercial advantage of connecting with customers and prospects face-to-face, so we're delighted that many more exhibitors will reap these benefits in 2022. Now that businesses are back up and running and senior decision-makers are looking to secure their future investments, the importance of live shows to accelerate recovery has never been more significant.'
Of particular interest to readers of Digital Textile Printer will be the Printeriors feature, returning for the sixth consecutive year. 
Intended to 'bring together the global print community to celebrate and showcase the latest in interior decoration,' Printeriors will be located in the South Entrance of Messe Berlin and has been inspired by floral and fauna with artwork designed by Jaspar Goodall and curated by Debbie McKeegan, Fespa's textile ambassador. 
Products will cross all print processes, inks and applications in collaboration with exhibitors and their suppliers. This will include textiles, wallcoverings, laminates, metallic and hard surfaces, carpets, lighting, lightboxes, acoustic surface treatments, decorative elements, fine art and accessories.
Itma
Finally, it might not be taking place until 2023, but we can't wrap things up without mentioning Itma, the world's largest textile and garment technology exhibition. The quadrennial event last took place in Barcelona in 2019, so pure happenstance means that its schedule hasn't been disrupted by the pandemic and the exhibition will return from 8 – 14 June 2023, in Milan, Italy.
The organisers hope that next year's event, which will be the 19th edition of Itma, will see a range of companies unveil new technologies that they have been developing during the pandemic period. Interest has proven to be high, with more than 93% (11,000sqm) of the exhibition space already sold to a total of 1364 applicants from 42 countries.
Ernesto Maurer, president of show organiser Cematex, commented, 'The response to ITMA 2023 has exceeded our expectations despite the economic and geopolitical uncertainties confronting the global business community. We appreciate the strong endorsement from the industry. The space booking status shows the industry's confidence in ITMA as the best global launch pad of the latest technologies and innovations.'
His colleague Charles Beauduin, chairman of Itma Services, 'After weathering over two years of the pandemic, the global business community is eager to get down to real business. Businesses are looking at long-term investments in key technologies to remain competitive. As the world's most established showcase of its kind, Itma is the quintessential platform for the industry to buy and sell, and to collaborate face-to-face.'
In terms of geography, the three countries with the highest number of exhibitors will be Italy, Germany and Spain. Outside of Europe, the most represented countries are China, Turkey and India.