A fashionable future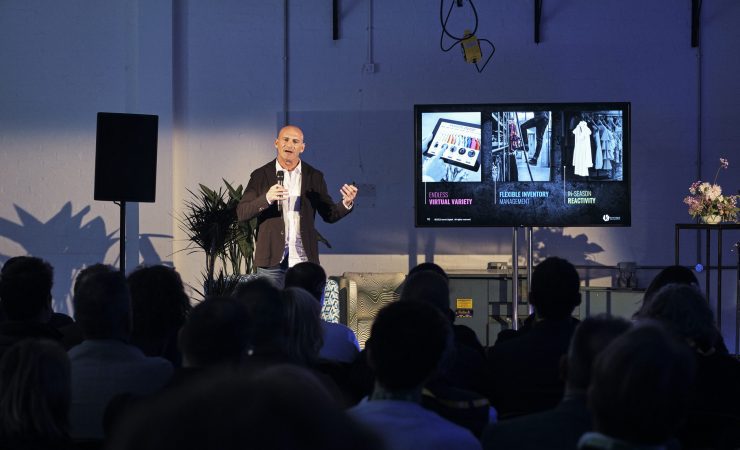 CEO Ronen Samuel addressing the visitors to North London
On Friday 4 March Fashion-Enter Ltd (FEL), an award-winning centre of ethical garment manufacturing based in North London, threw open its doors to showcase how partnering with Kornit and embracing digital printing technology has transformed its operations.
Established as a not-for-profit social enterprise, FEL says that it has two main aims: to provide outstanding British-made garments and to be a centre of excellence for training and development. As of 2022 it employs more than 200 people at four locations in London, Leicester and Wales and produces up to 30,000 garments a week.
The company's latest leap forward was its investment in a pair of digital textile printers from Kornit, installed to help FEL establish a digital micro-factory which will allow it keep up with trends that include the rising popularity of sustainable, on-demand production, falling order sizes, shortening turnaround times and demand for customisation.
The micro-factory concept has developed, in simplest terms, so that manufacturing (in any industry, not just fashion) can take place close to where customers live. This is in contrast to the more traditional method of having a single massive plant (within fashion, this will likely be in the Far East) producing everything and then shipping the products to different regions around the globe.
The appeal is obvious. The rise of e-commerce platforms allows brands to liaise directly with customers, producing closer to the end-user means that companies can operate far more sustainably and supply chains, which have been under such strain in recent years, can be shortened considerably. The good news for digital print is how seamlessly it fits into this landscape.
We've seen similar developments in other parts of print, but reshoring has a particular resonance for fashion and other textiles, so long synonymous with overseas production. For countries like Britain, once the bastion of textiles, as well as the rest of Europe and North America, a real reshoring of both production and jobs seems not just possible, but likely.
Both FEL and Kornit hope that the new micro-factory will serve as a prototype for companies interested in simplifying their logistics, shortening their time to market and bypassing unwieldy supply chains.
Kornit adds that removing overproduction and only printing what you have already sold will increase profitability even in highly regulated and high-cost markets. Speaking at the event in North London, Chris Govier, the company's president for the EMEA region, explained, 'As our partner ecosystem continues to grow globally by aligning with such leaders as Fashion-Enter, companies are realising just how powerful sustainable, on-demand digital production can be and the countless inherent benefits it provides.
'We are pleased to put these technologies on full display in our new joint Fashtech Innovation Centre and bring on-demand manufacturing back home to the UK. Whether you're a brand, apparel provider, custom fabric fulfiller, or creative designer wondering how to handle the next major market disruption, grow product lines, create a more eco-responsible and accountable production floor, the Innovation Centre will help you achieve these goals.'
The deadly duo
Housed next door to FEL's conventional production facility, the two Kornits sit alongside a Zund D3 digital cutting table. One machine is a Kornit Atlas Max direct-to-garment (DtG) printer, complemented by a tunnel dryer, which is used mainly for T shirt printing. The second is a Kornit Presto S roll-to-roll fabric printer, which runs alongside the Zund equipment, and is be used to print a wide variety of fabrics for diverse applications.
FEL founder and CEO Jenny Holloway says that the technology from Kornit 'actually blew me away. We couldn't find a better organisation than Kornit. The machinery and the people, the ethics. They are changing the industry.'
She stressed that the major advantage that digital offers companies like hers is the ability to react to developing trends, especially in a world that can change in the blink of an eye. Clothes produced in Asia might be cheaper, but they take weeks, if not months, to make it to Britain. Micro-factories operating on these shores can react far more quickly to market demands and, crucially, keep charging full prices.
 Digital's role in this clear. With DtG technology on hand there is no need for FEL to try and second-guess the market or anticipate fashions, nor is there any need for it to hold stock in warehouses or to put items on sale at discounted prices when the seasons change or certain products go out of style.
Ms Holloway explains, 'The beauty of having print on-demand means there are no minimums, so we can make one garment, or we can make up to 30,000 garments a week from all locations at the same fixed cost. Here, we can also train future generations on the right way of producing garments for today, responsive to demand, with minimal waste – ethical and sustainable. This is the future of fashion and textiles.'
A virtual future
As part of the open day Kornit itself had assembled its leadership team to provide some insight into the company's plans for future. CEO Ronen Samuel flew in from Israel specifically to explain the opportunities he sees in helping garment decorators and manufacturers embrace the metaverse, on-demand production, social media, e-commerce and more.
Mr Samuel seemed particularly enamoured of the metaverse, that virtual world championed by Facebook (now Meta) CEO Mark Zuckerberg and others, where users can gambol about in a computer-generated environment. The CEO insisted that Kornit would have 'a big role' to play in the metaverse, transforming fashions created in the virtual space into the tangible products available in the real world.
'There is a huge amount of potential in the metaverse and changes coming to this industry,' he said. 'Ten years from now, people will buy more clothes in the digital world than they will in the physical world. Our role is to connect between the two. We will enable you, if you are buying something in the virtual world, to produce it and get it in the physical one.'
He went on to stress that on-demand printing, facilitated by digital technology, is allowing customers to order custom garments from existing platforms such as Spotify – a printed T shirt featuring the customer's favourite musician or artist, for example. Kornit anticipates that by 2050, 60% of all apparel will be bought through e-commerce platforms of one sort or another.
Mr Samuel continued, 'The e-commerce of tomorrow will allow you, because it's digital, to buy any type of product. There will be no limitations. You don't need to carry the product. Consumers can choose what they want.'
He went on to talk about sustainability, refusing to shy away from the fact that textile production is the second most polluting industry in the world, beaten only by oil. 'Twenty percent of the global water problem comes from this industry,' Mr Samuel said, 'and 30% of all garments produced worldwide are never sold, equivalent to 21 tons of textiles and 28 trillion litres of water wasted per year. This is not sustainable.'
He said that the way to overcome these issues is to switch to on-demand production. Fortunately, this transition comes with other benefits as well. Mr Samuel, and Kornit, are clearly keeping one eye on the future, particularly Generation Z consumers, with their propensity to demand clothing that is unique to them.
Even though many brands still promote themselves through more traditional methods, such as conventional advertising, Mr Samuel says that 'Social media has changed the equation. It's no longer the brands telling people what to wear but the people telling the brands what they want to wear.
'We are unleashing the creative wave of the supply chain because if you are not bound to the idea of what the consumer might buy then you can create any type of product. So unleashing creativity is very important.'
 He added that printing on-demand doesn't just allow you that additional freedom, but also means that the customer has already paid for the product before it's even produced, safeguarding the manufacturer's bottom line and massively reducing waste. 'You don't have to carry lots of stock, just order what you want day by day,' he concluded. 'The trends are changing not by the season but by the hour and minute.'
Minute by minute changes might sound a little extreme, but there is no doubt that this is a fast-changing sector. Kornit itself certainly isn't slowing down, with the company planning to unveil new digital printing machines as part of its Tel Aviv Fashion Week from 4 to 6 April 2022.
 The company will also be hosting its first UK Fashion Week in London between 15 and 17 May. The Fashion Week series, which has previously been held in Los Angeles, New York City and Milan, has been developed to highlight the applications of digital printing in clothing decoration and production. There's plenty to look forward to.