Film stars – the sequel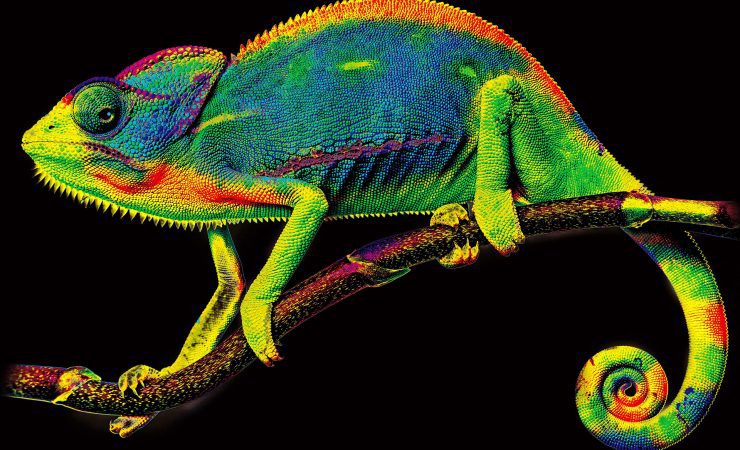 KODACOLOR Ink Assets, photography, badges, labels
In September of last year Digital Textile Printer ran an article exploring direct-to-film (DtF) printing and its potential. It's only been six months, but the technology has already been on the march…
What is direct-to-film printing? In simplest terms it is a printing process that uses a specific kind of ink to print a film transfer, which is then transferred directly onto the substrate.
To take just one example, The Magic Touch's solution means printing a roll-fed, 60cm coated PET film using a pigment-based textile ink, then lightly coating the printed transfer with a hot-melt adhesive powder. The transfer is then cured before being applied to the media using a traditional heat press. There is no pre-treatment required.
DtF is being positioned largely as an alternative to direct-to-garment (DtG) printing or as something that bridges the gap between DtG, screen printing and traditional transfer printing methods.
Its arrival on the scene coincides with garment decorators being increasingly on the hunt for ways to produce short-run full colour transfers for garments and textiles, regardless of colour or composition. Companies want a process that is compatible with cotton, polyester, leather, softshell, performance fabrics, pique blends, canvas, denim and more.
Evidence of just how timely DtF's arrival seems to be is the proliferation of options set to be on display at the upcoming Printwear & Promotion exhibition in Birmingham. Resolute DTG, RA Smart, YES Group and J&B Sewing Machine Co. will all be showcasing the technology in one way or another, as will The Magic Touch, whose managing director Jim Nicol is one of the strongest proponents of DtF you're likely to find.
'This [2022] will certainly be the year of DtF,' Mr Nicol told Digital Textile Printer. 'The process is here to stay and offers so many advantages for the user. It provides simply the best quality, durability and cost per transfer ever seen by any digital transfer process to date.'
That's quite the endorsement, but though Mr Nicol was perhaps the first advocate of DtF, he is no longer a lone voice speaking in its favour. Alex Mighall is the textile printing specialist at RA Smart, which is nowoffering Polytech's DtF solutions across the UK and Ireland. He too is enthusiastic about the future of DtF.
'When any new technology arrives on the scene we're invariably told it's something revolutionary, even if what it really is just a revision of something that already existed,' Mr Mighall says. 'However, with DtF things really are different. This is a truly exciting new technology which offers prospective users a viable alternative to existing print methods such as DtG and vinyl. It offers genuine advantages and quality results.'
So far, so good, but what precisely are these advantages? 'There is no pre-treatment required,' Mr Nicol explains. 'No cutting or weeding either. You also don't need any application tape. There is a very low cost per transfer and the process is also clean, safe, easy to use, producing eco-friendly, durable transfers with no waste.'
Mr Nicol also clearly has one eye on the future when he points out, 'DtF is perfect for almost every type of garment and textile. However, as we progress other potential applications for the technology might include the decoration of gift boxes, packaging, footwear, floor mats, umbrellas, PU products and more.'
For his part, Mr Mighall covers a lot of the same ground when he adds, 'DtF offers immediate advantages over more analogue methods such as screen print. This includes the absence of setup costs, meaning there are no minimum run requirements, as well as the ability to print a huge range of colours. It can also save vinyl printers vast amounts of time and money with the elimination of weeding. DtF users can also quickly transfer prints from film to substrate in seconds, with minimal effort and little human input.
'DtF printing also holds several benefits over DtG,' he continues. 'An alternative ink application process means there's no longer a requirement to pre-treat garments before applying white ink. Also, DtF inks are highly durable and even stretchable, making it suitable for a wider variety of applications, including sportswear.'
Early adopters
If the advantages of DtF are so numerous, and so clear, then surely we can expect to see a stampede of companies adopting the technology. What sort of firms are already testing the waters?
'DTF is perfect for all garment decorators,' Mr Nicol tells us. 'The only decision is to decide at what level the client wants to adopt. Our flagship printer, together with an automatic finishing unit, has a footprint of around 4 x 2m so space and access could be an issue – it's not going to just fit in a loft or a shed! However the new Mutoh VJ628D is a desktop option and fits nicely with most customers looking to produce up to 200 transfers a day.'
The Magic Touch has already installed around 50 DtF production printers and finishing units across the UK and Mr Nicol reports that 'users to date are a good cross-section of garment decorators with the real demands for production capacity of up to 15sqm/hr.' With the exception of three, all these customers had previously been reliant upon DtG printers, some of which are now redundant. The company already has two customers that have invested in a second DtF production press to keep up with demand.
Speaking for RA Smart, Mr Mighall also reports that, 'We're seeing DtF machines being purchased and used for all kinds of applications already, everything from workwear to sportswear. Whilst garment production seems to be the primary role of the printers for most customers so far, we do also see companies producing tote bags and other accessories with the machines as they become more aware of their versatility.'
Said versatility is another advantage to the technology, as Mr Mighall reports, 'DtF can be suitable for businesses of all levels, from small startups through to larger national and international brands. It doesn't necessarily require a vast amount of textile or garment printing knowledge, the process is relatively simple to perform, provided you are equipped with the correct settings for your intended application.' 
Learning curve
Of course, as with any new technology, there are things that early adopters need to know in order to make a success of DtF. Consumables are of particular importance, as Mr Mighall explains, 'A supply of good quality, consistent films, adhesives and inks will help avoid any unwanted transfer errors and ensure long-lasting, durable prints. The adhesive powders are a polyurethane resin which has been frozen by liquid nitrogen and broken down into small pieces. It's then accurately milled and filtered into the correct size. The powders come in different variations that can affect the elasticity and recovery of prints.
'The films and inks used also play a pivotal role in print quality and durability. Films require a specially applied coating to allow accurate and consistent ink transfers and high-quality inks are essential for rich colours and to ensure machine reliability.'
In terms of compatible media, RA Smart has 'already been testing and producing DtF prints onto a vast variety of fabrics with our customers. Of course, there are the obvious applications such as onto cottons and polyesters, but we've also had great success printing onto jutes and leathers. We're constantly trying new things and I'm confident that we'll discover even more exciting possibilities as we move forward with DtF.'
Kodak
Another company that is active in this market is Kodak, which recently introduced KodaColor, a new ink system developed specifically for direct-to-film printing. On KodaColor's arrival the American giant said that customising fabrics for garments, accessories, upholstery and soft signage is a growing market that will present it with a 'significant business opportunity' going forward.
DtF ink systems can be used with most modified inkjet printers and only involve three simple components: powder, film and ink. Kodak suggests that potential benefits of the new system include the ability to print on a wide variety of fabrics (including natural fabrics, polyester, nylon, rayon, blends and cotton), being able to be up and running with only minimal investment in hardware and more flexibility to accept printing projects.
The company's new system includes KodaColor powder, KodaColor film and ink specially designed for use in DtF applications. Customers with existing DtG printers have the option to use DtG inks with KodaColor film and powder to add Kodak's direct-to-film solution to their arsenal.
Kodak says that DtF is an ideal option for print shop owners wanting high-quality fabric prints without the expense of investing in a fully-fledged DtG fabric printing system, or for those wanting to offer additional print projects to their customers on fabrics other than cotton.
Grant French, the company's business development for digital inks, explains, 'DtF opens up garment and textile decoration to a much wider audience by lowering the costs and increasing the breadth of fabrics that can be decorated.'
When asked about the advantages, Mr French unsurprisingly hits many of the same points as Mr Nicol and Mr Mighall. 'Flexibility is the key advantage,' he explains, 'with the ability to print on many different textiles without primers or pre-treatment. This includes natural fabrics like cotton, linen, silk, wool, and man-made fabrics like polyester, nylon, rayon, and blends. Cost of entry into the market is lower for a number of reasons, including using less ink for your prints, [and] the solution works on a wider variety of existing printers.
'It allows you to print direct to garments or roll fabric by printing on the film, then pressing onto the fabric. Because of the process used, it can be applied to any fabric printing application. Bottom line: one technology that prints on almost any fabric and can be used in a wide variety of inkjet printers.'
The future
Of course we can't leave the topic of DtF without asking each of our experts how they see both the market and the technology developing in the years to come.
Mr Nicol predicts, 'Over the coming years we will see a serious migration of DtG users to DtF. It's already happening, and we expect it to continue as more of the affordable DtG options diminish. We also expect to see growth in different product and applications with the DtF technology, the cost per transfer possible with DtF is simply too good for the market to ignore.'
Mr Mighall is just as bullish, adding, 'I see DtF really taking off over the next couple of years and predict that we'll see an exponential growth in the sector. There's already a buzz around it within the industry and I would be surprised if we didn't see many more machinery manufacturers entering the market with their interpretations of the technology. With more and more creative print companies getting hold of the equipment it will be interesting and exciting to see how they utilise it to push the boundaries of DtF into areas that haven't yet been explored.'
Finally Mr French says, 'We're already experiencing significant growth in this marketplace because of the flexibility of the product, DtF is already replacing screen print/silk screens, DtG, dye sub, vinyl transfers… its's penetrating all those marketing segments and capturing market share. It's easy to use, has a low cost of entry, and runs with low operating costs. Kodak sees this marketplace as an exciting, expanding opportunity and we will continue to invest in technological development to enhance customer experiences and outcomes.'
Definitely something to keep an eye on.