Getting shirty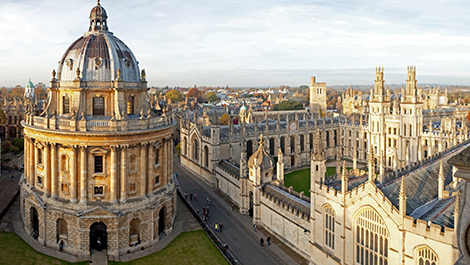 Dreaming spires: more than 500,000 tourists visit Oxford every year
In this feature Digital Textile Printer looks at how digital technology has been integrated into one of the country's most successful screen printing companies.
We are all familiar with Oxford University branded clothes. From T shirts to hoodies and sweatshirts, they're found all over the world, often worn by people without any connection to the university at all.
The City of Dreaming Spires is home to the UK's oldest university, its oldest public museum (the Ashmolean), many locations that were featured in the Harry Potter films and is only a few miles from Blenheim Palace, historic home of the Churchill family. It isn't surprising, therefore, that Oxford is one of the country's most popular tourist destinations, drawing in more than 500,000 international visitors a year.
For a long time, however, there was very little being done to serve this tourist market. Enter Shirtworks, an Oxford-based garment printer that celebrated its 35th birthday toward the end of last year, and the brains behind the branded garments you can see everywhere from London to New York via Tokyo and Timbuktu.
'We started off, 35 years ago, working out of a garage in Oxford' says Arron Harnden, who has been Shirtwork's managing director since 1992. 'In those days the company printed very small orders for students and local businesses using a single-head carousel screen printing machine.
'Over time people started asking for larger runs and it became clear that there was a viable business there. It was then that the founders had the idea of developing the tourist market. In those days nobody was serving the thousands of tourists that visit Oxford every week, nobody was doing university-branded products.'
In the late 1980s the company got a licence to sell its wares just outside Christ Church College and experienced a period of dynamic growth selling to foreigners, particularly Americans. 'Suddenly the runs were into the hundreds and thousands,' continues Mr Harnden. 'Previously they had been in the dozens. This lead to Shirtworks investing in bigger premises, more machinery and additional staff.'
The key moment, however, came in the mid 1990s, when the company unveiled its own website. 'That was where the story really began,' tells the MD. 'Suddenly we weren't just serving Oxford, but the entire country. We were one of the first companies in the sector to embrace the internet in this way and so we captured a lot of market share and kept growing through the 90s.'
But as the millennium approached competition increased, with cheap foreign imports flooding the market. 'We held our own,' Mr Harnden explains, 'but it was just turning into a straight race to the bottom on price. That was when we started to explore alternatives, including the workwear, promotional and corporate sectors. By virtue of our website maintaining a high organic presence people were able to find us easily and so things continued to go well until 2008 and the financial crash.'
Digital
Of course all of this took place in the days before digital printing technology was an option for the garment market. 'I'm not sure precisely when we first invested in digital,' the MD admits, 'but it was some point between 2010 and 2012. Frankly, the technology was rubbish! We could only print one shirt every 25 minutes and the results were always unpredictable. We trundled on with breakeven, perhaps even loss-making, equipment from that initial investment all the way up until two years ago.'
That was when Shirtworks took delivery of a Kornit Avalanche direct-to-garment printing system, alongside the company's workflow software, developed following Kornit's acquisition of Custom Gateway. According to Mr Harnden the technology now being introduced by Kornit and other companies has 'the potential to revolutionise businesses like ours, and the sector more broadly, but it is going to be a long, hard road. We know that the Avalanche provides awesome print results, at a rate of around 70 garments per hour. However we need to keep the system busy and that isn't always easy to do.
'We have to compare this to screen printing where, once you've set the job up, you can print 400 shirts per hour. That means that there are still legitimate questions regarding digital's place in workshops.'
Of course advocates of digital will point to its minimal set-up time, particularly in comparison to screen printing. It's an argument Mr Harnden acknowledges, 'Sure, with digital there are no screens, no artwork prep, no colour separation,' he says, 'all you need to do is send the design to the machine and you're ready to go. Compare that to a multi-colour job on a carousel which can easily take up to two hours just to set up.
'The much shorter set-up time, and the fact that you can operate with less staff, means that digital is ideal for short runs. There is a clutch point however, this varies, but I'd suggest it's around the 150 shirt mark at present.'
Of course there are challenges as well as advantages to embracing digital. 'Not every garment prints well,' Mr Harnden says. 'We try to guide our customers toward organic cottons because that's how they get the best results. It also fits in with our ethos of operating organically and holistically.' This is a philosophy that Mr Harnden is clearly, and justifiably, proud of – Shirtworks is one of only a handful of companies that are able to provide fully GOTS-compliant products, whether digitally printed, screen printed or embroidered.
Many companies claim that they can now print digitally onto polyester, however for Shirtworks this isn't yet the case. 'The tech is evolving,' Mr Harnden explains. 'But at the moment it isn't quite there yet. I know of companies that claim they can get acceptable results printing onto polyester, but acceptable isn't good enough for us.'
The biggest challenge, however, remains printing bright, solid colours onto dark garments. The problem, as Mr Harnden explains, is the same as trying to paint a dark wall in your house, you need to do several coats in order to get the desired results. 'You also need to remember that water-based inks lack the viscosity and opacity that are a given with screen printing inks.'
There is a future for digital within garment decoration, however, a very bright one. 'Digital is awesome for highly variable, rich, too-many-colours-to-count type designs,' the MD continues. 'That's where it really comes into its own. These days customers can create their own designs using products like Photoshop and see those designs printed on a T shirt at 300dpi; previously that would have been 72dpi and quality of the artwork would have varied.'
The future
Where Mr Harnden really sees digital flourishing, however, is the drop shipping market. This is an order fulfilment method where a company doesn't actually hold the stock it sells, instead purchasing inventory from a third party on an as needed basis. 'It's all about brand development,' Mr Harnden continues. 'Think about it this way, you might develop a brand around first-person shooter games, to take just one example. You can then sell shirts into that market, but in order to charge a premium you need to have that brand in place. This is important because the costs behind drop shipping are quite high compared with screen printing.
Brands have become conscious of their environment impact, which includes wastage. Using the print to order model reduces wastage to virtually zero as the blank product can easily be diverted to a different print.
'The other side of the market is responding to current trends and global events. Ukraine is the obvious example at the minute, the market is flooded with garments supporting that country. These take 10 minutes to design and print and then retail for up to £15. Digital allows people to respond to events like this in a way you can't with screen.'
That doesn't mean that digital is set to explode overnight, however. Even for Shirtworks the decision to invest wasn't taken lightly, as Mr Harnden explains, 'To be frank, it was a difficult thing to get onboard with. The cost of entry is horrendous. If you're just starting out in garment decoration then I think investing in digital is likely an easier pill to swallow… you need less staff, and they need less training, frankly it's a less skilled process. Setting up a screen printing carousel with ten heads involves understanding some pretty complex machinery, there will be lots of problem solving and getting good quality results requires years of experience. Digital removes all of that from the equation so, for new companies, it means getting up and running is significantly simpler.
'Even so, the costs are prohibitive. For an eight head screen printing carousel you're talking around £40,000, for a digital system that can do similar amounts of work you're talking more like £250,000. You will save money over time, so you have to think of it as an investment in the future.'
How long this state of play will last depends on how quickly digital technology develops. Mr Harnden continues, 'Ultimately there will come a time when digital replaces screen. I'm sure there will always be demand from die-hard artisan screen printers, but that technology will take up a small corner of your premises, with digital dominating the rest.'
One area where growth will be quick, though, is for customers operating a just-in-time business model. 'This is the business model of the future,' Mr Harnden says, 'because it means you don't have to hold nearly as much stock. For companies operating this way, digital isn't just the best option, it's the only one.'
The growth of digital is, of course, predicated on the technology's continued development. So what can't digital do that Mr Harnden hopes it will be able to do in the future? 'Printing white onto dark garments often don't give as good as we can get with screen printing, but maybe that's me as my standards are higher perhaps that the average buyer. Perhaps I should add that we are starting to see some brilliant whites on the top end machines.
'Speed definitely needs to improve as well, we need to be able to produce 200 – 300 shirts per hour to really compete with screen, even with the reduced set-up time.
'It also needs to become better at printing onto polyester. Even printing onto some cotton garments you don't get great results and an awful lot needs to be done to discover what works and what doesn't. The manufacturers could do more on this front, I'm thinking in terms of product tests, developing settings and general leg work, it is in the garment manufacturers interest to produce a garment that prints well and there is certainly work going on there.'
To a certain extent it will be companies like Shirtworks that decide how fast digital grows. 'We deal with a lot of agencies from across marketing and design. As a rule, they don't care what process we use, they just ask for X number of shirts to be in Y city by Z date. They provide us the artwork and then leave everything else to us, the digital space will grow by virtue of us deciding to use the technology on behalf of our customers.'
It may take some time, and there are clearly still plenty of hurdles to overcome, but one thing seems certain, digital's day is coming.