CMYUK unveils new Epson dye sub at CIRL open day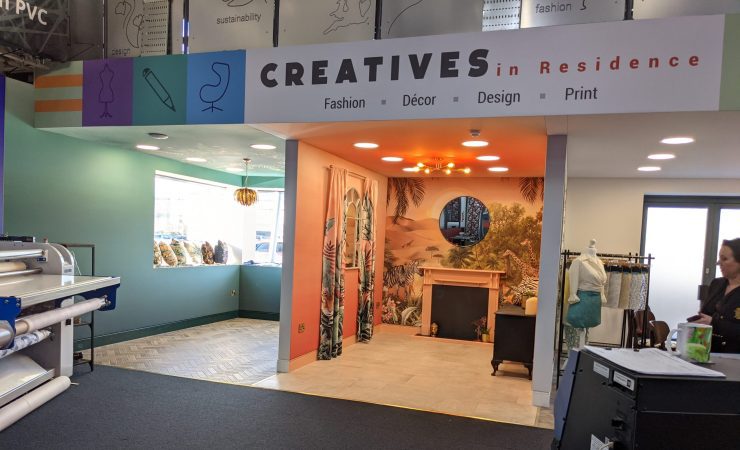 The CIRL programme is based at CMYUK's Shrewsbury demonstration centre
Every two months Digital Textile Printer sends out an e-newsletter exploring all the latest news and developments from across the most exciting sector in print. The only way to make sure you receive all of our content, including interviews, case studies and analysis is by registering, which you can do HERE.
---
At a successful open day designed to showcase the success of its Creatives in Residence Live (CIRL) programme, CMYUK also took the opportunity to unveil its latest investment, a new Epson SureColor SC-F9400H dye sublimation printer.
The open day took place on 2 December at CMYUK's Demonstration and Training Centre in Shrewsbury. It saw visitors given the opportunity to speak with everyone involved with the CIRL initiative, explore CMYUK's range of fabrics and equipment, and speak with representatives of the company's partners including Canon and Epson.
The technology on display included printers from EFI, Canon and Mimaki alongside an entire suite of Epson's SureColor printers. This included the entry-level 'baby' the SCF100, the 24in SCF500 and an SC6300, a four-colour device suitable for both textiles and the personalised gift market, described by Epson as 'probably our most popular dye sublimation machine.'
The new SC-F9400H, meanwhile, is a 64-inch, six colour machine designed for fast, high-volume printing across clothing, soft signage and other textiles. What sets CMYUK's new model apart is its ability to print using  two florescent inks – yellow and pink – allowing users to bring bright, vivid colours to the production of sportswear, workwear and fashion items.
Another interesting feature on display in Shrewsbury is a set of rooms developed by Avalana Design to showcase precisely what digital print can accomplish when it comes to interiors. There is also CMYUK's new fabric binders, which display all the various substrates the company supplies, alongside all the information and data potential customers could need.
The young designers taking part in the CIRL project get to explore all of this, alongside CMYUK's extensive range of calenders, heat transfer equipment and finishing machines. They also get to pick the brains of an array of mentors taking part in the process as well as the CMYUK team and Texintel's Debbie McKeegan, who has put together the curriculum they have been following.
CMYUK's group sales and marketing director Robin East gave his thoughts on the project. 'Debbie and I were on the same page when it came to our view of upskilling and we're both passionate about brining young people into the industry,' he said. 'We've all heard about the skills gap or read articles about apprenticeships, but at a certain point… actions speak louder than words! 
'What we've done is take three designers, who already have plenty of transferable skills, provide them with an effective curriculum, a range of mentors and an opportunity to learn how things work in the 'real world.' We wanted to show what could be done with just six months of work and Debbie and I are both confident they're all set to do great things.'
---
For a full report of CMYUK's open day, as well as more strategic thoughts from those present, make sure you REGISTER to receive the next instalment of Digital Textile Printer.