Polyprint expands into Spain and Portugal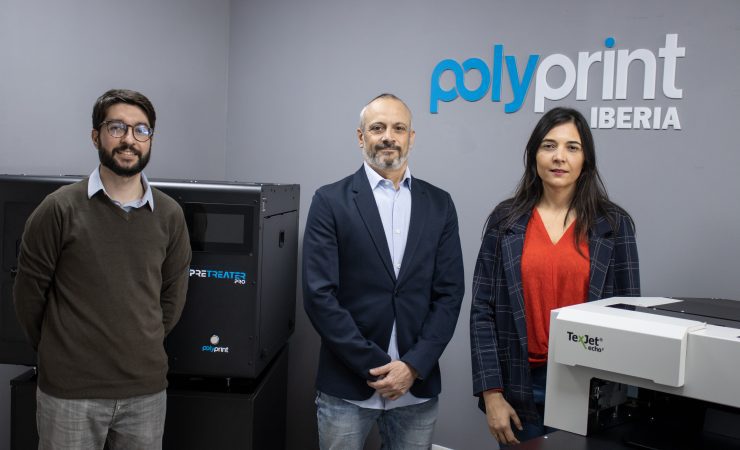 The Polyprint Iberia team at their new Spanish headquarters
Every two months Digital Textile Printer sends out an e-newsletter exploring all the latest news and developments from across the most exciting sector in print. The only way to make sure you receive all of our content, including interviews, case studies and analysis is by registering, which you can do HERE.
---
Polyprint, the Greek manufacturer of direct-to-garment printers, has announced the creation of Polyprint Iberia. The company, headquartered in Thessaloniki, has been operating partnerships in the region for more than 12 years, but has now taken the next step and opened a new operation, based in Valencia. 
This joint venture between Polyprint and Polyprint Iberia will centralise the company's operations across both Spain and Portugal. It will focus on the growing demand for DTG products in the Iberian Peninsula as well as serving the needs of current and future equipment users. 
Polyprint CEO George Benglopoulos commented on the move, 'Our presence in the Spanish market, since 2008, has helped numerous clients start and grow their garment decoration business successfully, relying on the latest DTG technological advances. Polyprint Iberia will allow us to have a closer relationship with our customers by creating an extensive network that will offer Polyprint products, high-quality educational services, ongoing support and short delivery times, anywhere within the peninsula.'
The new Iberian team will be led by Quique Torro, described an experienced technician with extensive knowledge on Polyprint products. Mr Torro commented, 'I am really excited about the launch of Polyprint Iberia. We are committed to helping businesses advance by making the most of their DTG equipment. The Polyprint customer community will greatly benefit from this big step.'
Polyprint, the manufacturer of the TexJet line of DTG machines, says that the creation of this new entity demonstrates is commitment to putting customers first and will allow it to forge 'customer-focused business alliances that will streamline efficiency.'