CMYUK announces second CIRL project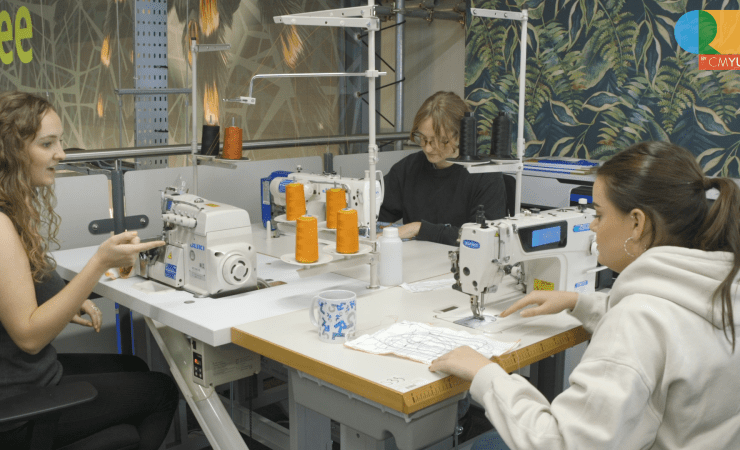 Evie Venables (front), Keely Russell (L), and Sarah Willcocks will all take part in the second project
Every two months Digital Textile Printer sends out an e-newsletter exploring all the latest news and developments from across the most exciting sector in print. The only way to make sure you receive all of our content, including interviews, case studies and analysis is by registering, which you can do HERE.
---
CMYUK has announced its second Creatives in Residence Live (CIRL) design brief. The three graduates, and anyone taking part at home, will be exploring Geometics – Incorporating Textures, and have until 3 December to produce designs for a fashion garment, interior décor accessory, furniture and flooring.
The CIRL programme, launched earlier this year, sees a group of young graduates taking part in a six-month 'learning journey' at CMYUK's demonstration and training centre in Shrewsbury. Their first brief, Abstract Florals, saw the designers produce an A3 swatch book, three wallpaper designs, three natural and three polyester printed fabrics inspired by florals and verdure.
CMYUK have put together a group of mentors for this brief, including pattern trend and research company, Pattern Curator; pattern cutting and samples studio, The Pattern Room; British fabric printer, Standfast and Barracks; decorative interiors designer, Freya Richmond; and contemporary upholstery company, Loose Button. The technology the graduates have available will come from Epson, Mimaki, Canon, Klieverik, EFI, Kongsberg and AEG Sewing. 
The educational element will be overseen by CIRL project partner Debbie McKeegan, who commented, 'As we begin the second project, the in-house graduates have a clearer vision of the scale and diversity of the industry for which surface pattern designs are created. That's exciting! The creative possibilities are endless and there is almost no surface that can't be digitally printed. With that in mind,  it's important to design with a product or industry sector as a target and importantly always consider the environment. We are really looking forward to Project #2 to explore new technologies and materials brought to life by fantastic designs.'
The brief begins on 16 November and closes on 3 December and is available online so that design students worldwide can participate.