Eventureworks hits right note with Soyang Europe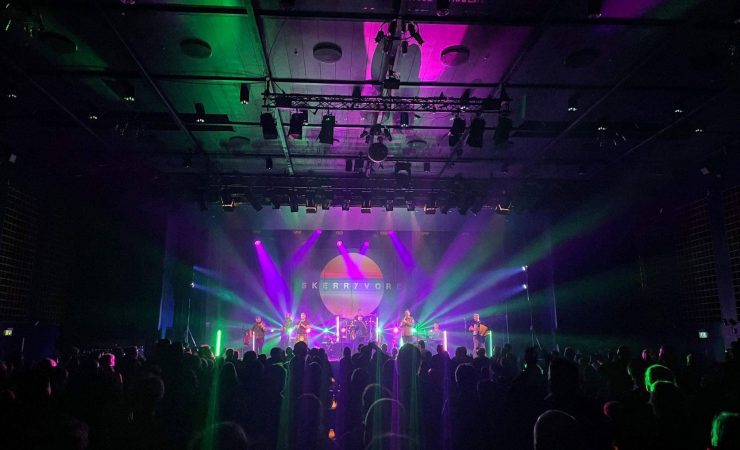 Skerryvore's 'Together Again' tour will see the band play a whole host of venues right across the UK, as well in Denmark, Germany, The Netherlands and the USA.
Every two months Digital Textile Printer sends out an e-newsletter exploring all the latest news and developments from across the most exciting sector in print. The only way to make sure you receive all of our content, including interviews, case studies and analysis is by registering, which you can do HERE.
---
Eventureworks, a Falkirk-based company specialising in printed outdoor event supplies and promotional merchandise, has teamed up with Soyang Europe to create a printed backdrop for Scottish rock band Skerryvore to use at concerts.
The company used its Roland Texart XT 640 dye-sublimation printer and Nazdar inks to decorate Soayng's Vista Display ST-117 100% polyester warp-knitted fabric for the band. The fabric, which can be printed using UV, latex, screen print and dye sublimation technology, is certified fire retardant and features engineered crease recovery,
Eventureworks frequently produces printed flags, banners and garments for events (another area of the business, The Cycle Jersey, also produces specialist cycling clothing), and it is through this event-related work that the team built up a report with Skerryvore. Last month member of the band approached Eventureworks to produce a backdrop for its current 'Together Again' tour, which will see the band play at a host of venues across the UK, as well as locations in Denmark, Germany, The Netherlands and the USA.
This busy schedule meant Eventureworks' remit was to create a backdrop that would not only create a strong impact for the band, but also offer high levels of durability for transport to different venues across the globe. It was felt that Soyang's material was an ideal fit.
'Soyang Vista Display ST-117 was the perfect solution for us on this job,' explained Eventureworks director Brian Gibb. 'We had to ensure the backdrop created a strong impact for the band's identity and that this would be relayed to the audience.
'The core benefit of working with Soyang Vista Display ST-117 is that stage lights do not cause any glare on the fabric, making it ideal for use before, during and after the band's performance. In addition, it is certified as being fire retardant which is obviously very important. The printed graphics look really good!'