Kornit to unleash Presto Max in Los Angeles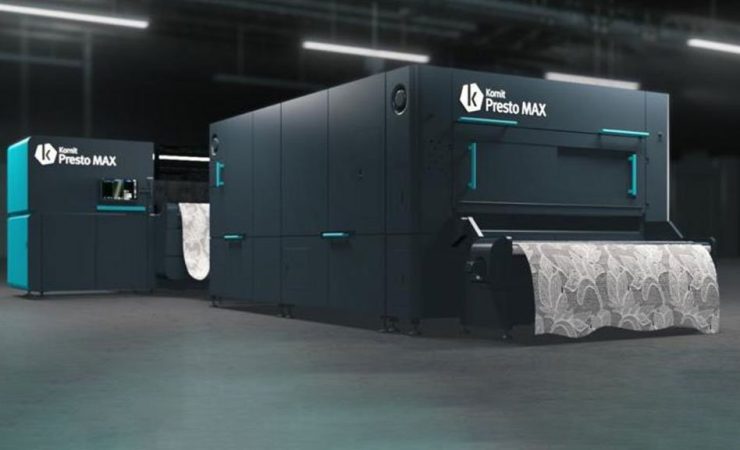 The new Presto Max will make its live debut at Kornit Fashion Week Los Angeles
Every two months Digital Textile Printer sends out an e-newsletter exploring all the latest news and developments from across the most exciting sector in print. The only way to make sure you receive all of our content, including interviews, case studies and analysis is by registering, which you can do HERE.
---
Kornit Digital says it is reinventing design with the release of Presto Max, its next generation system for sustainable production of custom textiles on demand. The company says that the technology is the first to bring to market the ability to print white onto coloured fabrics whilst also allowing for neon colours and, via Kornit's XDi technology, 3D decorative applications.
Kornit first introduced Max back in April, with the technology already proven in the field via the Atlas Max system. The new Presto Max will make its live debut at Kornit Fashion Week Los Angeles, which is taking place across 2 – 5 November and will showcase technological innovations, partnerships and strategies that Kornit says are 'driving the business case for sustainable, on-demand production of fashion and textile goods worldwide.'
'Presto Max will change the textile industry forever, transforming digital into the catalyst for modernising the business, breaking the barriers between imagination and physical applications, connecting consumers and fulfillers on a global scale, and truly capitalising on digital's promise for delivering both sustainability and profitability, free of waste,' explained CEO Ronen Samuel.
'Whether your business is finished goods or ready-to-use custom fabrics, growing your own brand or supplying the world's retailers and entrepreneurs, this technology represents the cutting edge of on-demand, unconstrained textile production, in terms of both capability, accessibility, and sustainability. Kornit empowers producers to create more with less, shrink their carbon footprint, and deliver unlimited expression while creating new opportunities and growth.'
Kornit is marketing the new system as the the most sustainable single-step solution for direct-to-fabric printing, 'delivering the highest quality and softest feel.' It has also been developed specifically to incorporate future iterations and evolutions of XDi.
Compatible with natural fabrics, synthetics and blends, Kornit says that Presto Max 'provides the cornerstone of a smart, efficient, sustainable EcoFactory that empowers producers to cover and integrate more parts of the process.'