Mutoh and STS team up for DTF project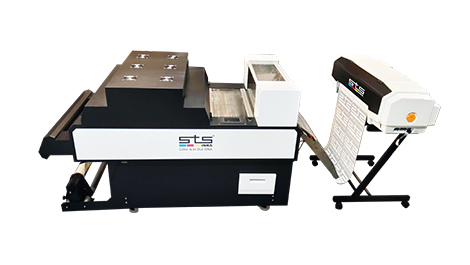 The STS Modular Direct to Film system, available via STS Europe and selected Mutoh dealers
Every two months Digital Textile Printer sends out an e-newsletter exploring all the latest news and developments from across the most exciting sector in print. The only way to make sure you receive all of our content, including interviews, case studies and analysis is by registering, which you can do HERE.
---
Mutoh Europe and STS Europe have confirmed that have joined forced to produce the STS Modular Direct to Film system, the centrepiece of which is a compact 630mm-wide printer, designed to fit onto a table-top or rolling stand in any size print shop. 
Available across the EMEA region through STS Europe and selected Mutoh distributors, the system has been designed to be 'the most cost-effective and hassle-free solution to simplify the process of quickly creating custom t-shirts and apparel.'
The companies say that direct to film (DTF) boasts several advantages over traditional DTG and other rival technologies. Specifically DTF is compatible with non-treated cotton, silk, polyester, denim, nylon, leather and 50/50 blends. It can also handle both white and dark textiles and allows users to choose either a matte or glossy finish. 
'With the debut of our modular system, STS Inks has monumentally improved the process of DTF printing, especially for new entrants in the custom apparel marketplace and existing firms that are looking to expand their product line,' explained Shahar Turgeman, founder of STS Inks. 'We've given each of the essential DTF components a smaller footprint, deployed a user-friendly software program, bundled in the highest-quality supplies, and are offering the STS DTF System at a lower price with improved performance than anything available in the marketplace today.'
Mitsuo Takatsu, Mutoh Europe's managing director, added, 'Mutoh Europe are pleased that STS selected our reliable made in Japan core technology for their DTF solution. The STS VJ-628D printer is based on Mutoh's existing ValueJet 628 eight-channel printer chassis.  Mutoh Japan's R&D team adapted the basic chassis to cover the specific needs of DTF, including but not limited to the capability of jetting white inks. 
'We look forward to partner with STS Europe for them to roll out this programme throughout the EMEA business area through selected Mutoh Certified Distributors who have the local presence, the experience with our VJ-628 engine as well as knowledge of the market. The total solution including all key components such as inks, TPU adhesive powder, PET film, powder shaker and software will be fully supported and warranted by STS Europe.'