Parrotprint buys Europe's first Vutek Q5r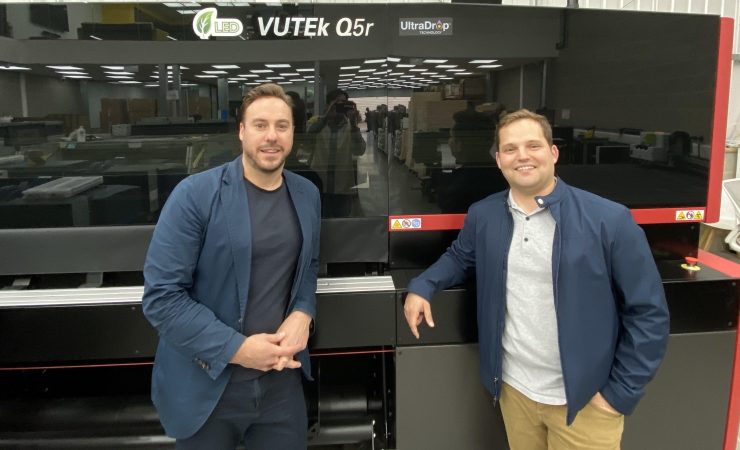 Dane Hamer (L) and Matt Dahan of Parrot Print
Every two months Digital Textile Printer sends out an e-newsletter exploring all the latest news and developments from across the most exciting sector in print. The only way to make sure you receive all of our content, including interviews, case studies and analysis is by registering, which you can do HERE.
---
London-based online photo print specialist Parrot Print has become the first European site to take delivery of an EFI Vutek Q5r 5m roll-fed UV LED printer, supplied by CMYUK.
Offering next-day delivery of high quality photo prints on canvas from anywhere in the world via its parrotprint.com portal, and claiming to be unbeatable on all-in price, the business was launched by photographers and entrepreneurs Matt Dahan and Dane Hamer in March 2021.
'As photographers in a previous life, we were unhappy with the quality produced by similar companies. Often seeing heavily pixelated or chopped prints, we saw the need for a more affordable premium service run by a knowledgeable and passionate team,' said founder Mr Dahan. To address quality issues, he developed a photo quality assessment algorithm that responds to the user's scaling and cropping decisions to optimise reproduction, which is coupled with AI tools that check and auto-correct other aspects of the job creation and production workflow in order to simplify the user's experience and to ensure accurate results.
All products are printed on premium quality heavyweight museum archive-grade canvas, suitable for fine art photography and allowing fine detail and vibrant colours. A number of printers were considered but the Vutek machine, introduced at EFI's online Engage event in January this year, won thanks to its speed. 'It has market leading production speeds that no other vetted printer can match, along with meeting our strict requirements for quality and running costs,' confirmed Mr Hamer.
Mr Dahan also praised the pre- and post-sales support from CMYUK as being 'second to none', on this and previous installations. The Vutek Q5r offers speeds of up to 672sqm/hr and up to nine colours, including white and clear inks, at 1200dpi resolution.