Agfa and Koenig & Bauer allow Interprint to expand décor range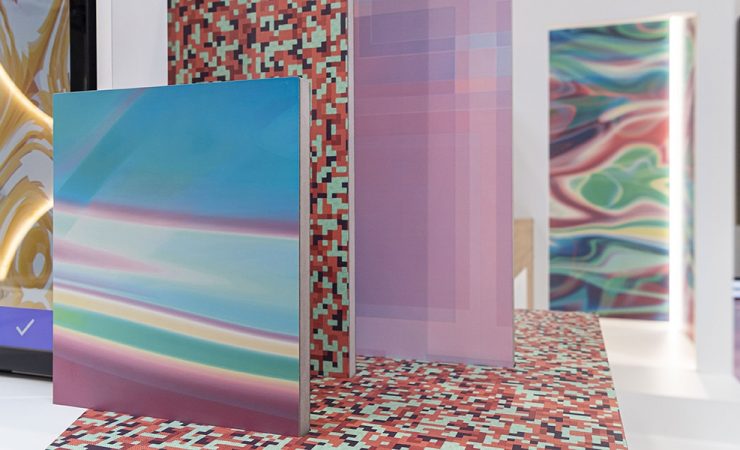 The cooperation between the three parties has made it possible for Interprint to expand its digital printing range using laminates
Every two months Digital Textile Printer sends out an e-newsletter exploring all the latest news and developments from across the most exciting sector in print. The only way to make sure you receive all of our content, including interviews, case studies and analysis is by registering, which you can do HERE.
---
Interprint has expanded its product range by deploying Agfa's water-based pigmented inkjet ink set on two of its Koenig & Bauer RotaJet presses.
The company, which specialises in printing décor paper, recently invested in a third RotaJet system, its second one from the latest generation. Both of these models are now utilising the same Agfa ink set. 
The cooperation between the three parties has made it possible for Interprint to expand its digital printing range using laminates. The 'consistent and interchangeable' prints available on both lines means that the company can roll out a 'wide variety of designs,' from the early sampling phase right to the full production.
'We are excited to be able to show full flexibility in designs thanks to digital décor printing,' commented Interprint managing director Robert Bierfreund. 'The cooperation with Agfa and Koenig & Bauer during the start-up phase of the RotaJet lines has been very professional and resulted in a consistent print process that enables us to serve our customers with a huge freedom of design choices and superior print quality.'
Koenig & Bauer and Agfa say that they cooperated closely in order to validate the performance of the Agfa ink set for use with the RotaJet print solution. Christoph Müller, a member of the management board of Koenig & Bauer explained, 'Koenig & Bauer extensively tested the Agfa ink set on the RotaJet print solution at its Customer Technology Centre in Würzburg. The fine-tuning of ink to the print system was managed carefully by both parties. This has resulted in the RotaJet running in a very controlled manner, delivering excellent image quality and overall performance.'
Tom Cloots, Agfa's director of industrial inkjet, added, 'Agfa is committed to the laminate industry, with many years of R&D invested in inks for this industry, and has recently built a new dedicated ink production plant. We have a long tradition of handling pigments and have built strong expertise on how to disperse them in a water-based ink carrier. Agfa technology enables the consistent production of inkjet inks with a very wide color gamut – a key element of the overall ink performance – yet a low ink consumption.'