CMYUK announces Trotec partnership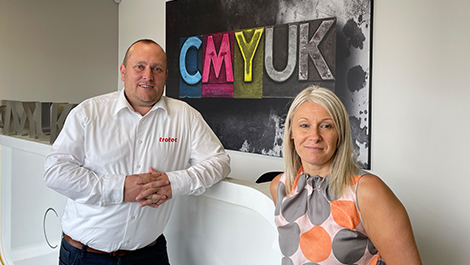 Bryan Jater (L) of Trotec alongside CMYUK's Sue Hayward
Every two months Digital Textile Printer sends out an e-newsletter exploring all the latest news and developments from across the most exciting sector in print. The only way to make sure you receive all of our content, including interviews, case studies and analysis is by registering, which you can do HERE.
---
CMYUK has announced a new partnership with Trotec Laser to help the latter break into new markets across the UK and Ireland. CMYUK will work in conjunction with Trotec's UK subsidiary, established in 2007, which services customers via six show rooms and a dedicated team of direct sales and field-based service staff.
'We wanted a partner that could synergise with our highly effective direct sales teams, and take us into markets where we are not yet established,' explained Trotec UK's managing director Baljit Dhillon. 'We believe that CMYUK provides both the pedigree and the reach to achieve that goal. We want to be everywhere; we are very ambitious.'
CMYUK group sales and marketing director Robin East added, 'Trotec and CMYUK have similar cultures. We sell both premium products to businesses that are interested in quality and professional efficient productivity. We share the same service philosophy – long term customer development and retention.'
Trotec's laser machines are used for engraving, cutting and marking various materials such as wood, acrylic, leather, paper and metal. With several equipment ranges available from entry-level high performing options through to industrial plant automated solutions, the company has a suitable laser for virtually any application.
'CMYUK will work in concert with Trotec UK's  highly effective direct sales force, where we  will develop incremental opportunities in the markets we know really well,' added Mr East. 'Trotec is a natural fit for our industry, we see it for example, adding significant value to the Mimaki UJF range of digital printers. The fine detailed cut-outs that can be achieved are only available through this laser technology. Trotec equipment will provide additional  uplift to new areas such as personalisation, décor and interiors. It represents infinite possibilities to provide our customers in both traditional and growing markets with a competitive edge.'
Trotec Laser services was formed in 1997 from a research branch of Austrian-based Trodat and now serves customers in over 90 countries and has a direct sales force of 500.