Friedheim scores hat trick in Dunstable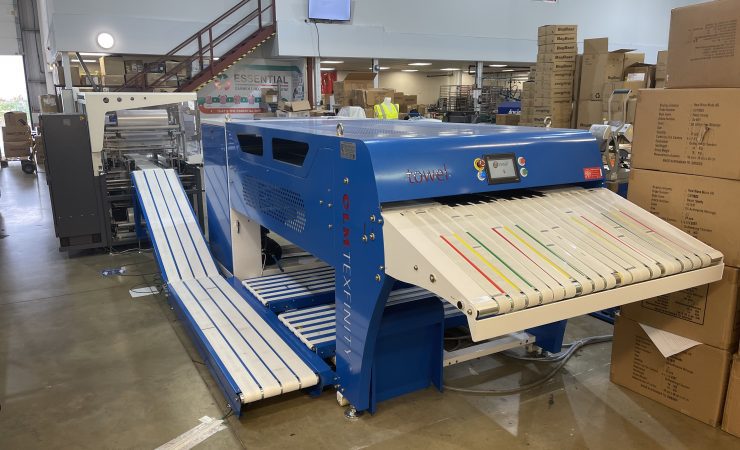 All three pieces of finishing equipment are up and running in Dunstable.
Every two months Digital Textile Printer sends out an e-newsletter exploring all the latest news and developments from across the most exciting sector in print. The only way to make sure you receive all of our content, including interviews, case studies and analysis is by registering, which you can do HERE.
---
Essential Embroidery Design, a personalised clothing provider based in Dunstable, says the installation of three new pieces of finishing kit from Friedheim International has 'significantly improved its efficiency.'
The company, which works with a wide range of customers across its Essential Embroidery Design and Essential division, provides a wide range of clothing decoration services including embroidery, screen print and transfer print. Essential was on the hunt for new machinery to improve the efficiency of its packing department, which it saw as key to its future growth. Specifically it wanted a solution that could fold, bag and label clothing products from its production line.
Essential therefore approached Friedheim for support with the investment project, eventually opting for a Beck Serienpacker S2050XJ Bagging Machine, Texfinity S.OMNI.A Garment Folding Machine and Weber Legi-Air 2050 Print and Apply Labeller Station.
'We wanted a solution that could fold, bag, and label as a one-man operation, using these three units together we were able to achieve that,' explained Essential's operations director Louis Georgiou. 'The investment has really helped us in being more efficient by reducing the labour hours needed in our packing department, which will now allow us to pursue new work and grow our business as a result.'
Mr Georgiou added that by reducing labour hours in packing staff will be free to work on other projects, which will in turn support its long-term growth strategy. 'This has allowed us to take on jobs on shorter turnaround times and given our staff more time to focus on more important organisational tasks, which allows our operation to run much more smoothly,' he concluded.