YPS to distribute Moditech EWS flatbed laminators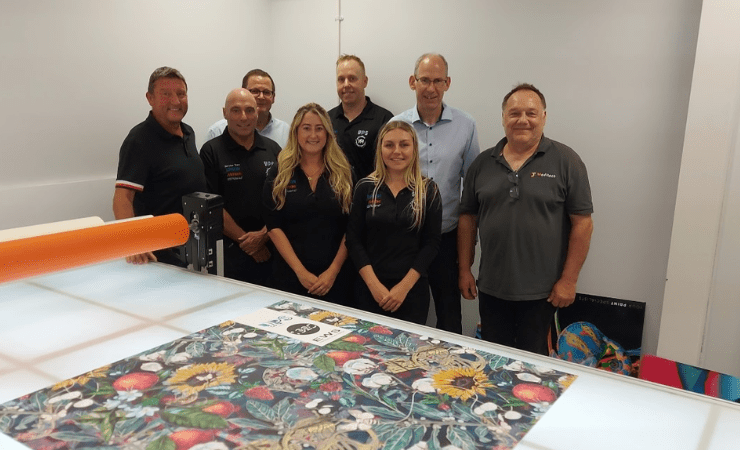 The YPS and Moditech team with the EWS flatbed laminator
Newcastle-based distributor of large format and digital textile prints Your Print Specialists (YPS) has announced it will be the exclusive UK distributor of Moditech's EWS 5th generation flatbed laminators.
The machine features an electronically pressurised roller to make it possible to work anywhere on the table. This means users do not have to stretch to reach areas in the middle of the table and they don't have to use supporting posts during lamination. As a result, there is less potential to damage prints as the roller applies even pressure along the entire length of the table. With the table being fully electronic, it also does not need a compressor.
According to the company, just about everything on the EWS is adjustable. The EWS table surface tilts up to 25 degrees to ensure a comfortable working position and the machine has built in wheels what can be controlled electronically.
Georgia Brown, managing director of YPS, said, 'Every Moditech EWS is pre-assembled, which means it can easily fit through a normal door to get into your workshop. Each table is packed vertically to a width of 78cm – so they can be transported and installed easily. Delivery through narrow passages and doorways is easy with the packed width of just 78cm. Even if you have a relatively small unit, thanks to the EWS workstation, a new applicator table is not out of reach due to size restrictions.'
Jørn Olsen, business development manager, Moditech, added, 'The Moditech EWS is now ready for global distribution and we are looking for the right distributors to support us in our key territories. We met Georgia and the YPS team at Fespa and felt that would be an ideal company to work with in the UK. They were looking for a product like ours to complement their range of large format printing solutions and we feel very confident that they will provide the right level of support and commitment that we are looking for in an exclusive country partner.'