EFI unveils ecoTerra at Fespa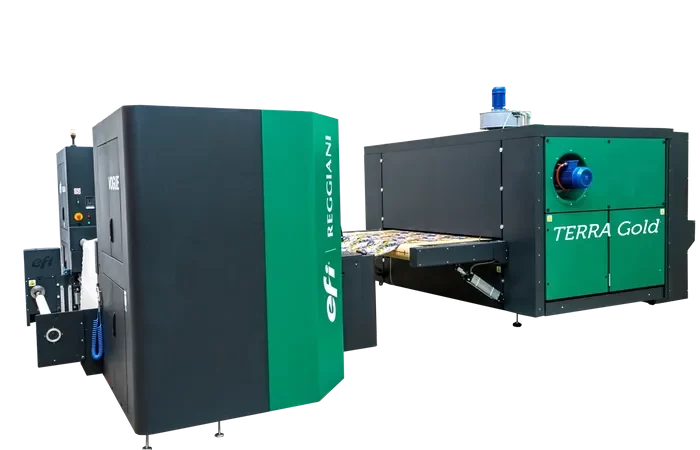 The ecoTerra has joined EFI Reggiani's Terra line-up, pictured is the Terra Gold
At the recent Fespa Global Print Expo in Berlin, EFI showcased the new Reggiani ecoTerra pigment solution, a new eco-friendly, all-in-one pigment inline printing and finishing solution intended to drive efficiency and sustainability in industrial digital textile printing.
The new all-in-one solution requires no ancillary equipment for pre- and post-treatment. EFI says its patent-pending technology gives customers 'a distinct competitive advantage, dramatically cutting energy and water consumption in the overall process for a more sustainable direct-to-fabric printing experience.'
'We are truly thrilled to provide our Fespa visitors a preview of an innovative pigment printing solution that delivers authentic textile printing results while cutting water and energy consumption,' said EFI Reggiani's senior vice president and general manager Adele Genoni. 'This is another confirmation of our commitment to green innovation. The EFI Reggiani ecoTerra solution contributes to making the textile industry more sustainable, reducing the environmental footprint to deliver an eco-friendlier direct-to-fabric printing experience.'
The ecoTerra ink range features seven colours, (cyan, magenta, yellow, black, blue, red and green) for an expanded colour gamut. It also comes with an enhanced polymerisation and finishing unit which gives the fabric a softer hand feel, delivering performance that is in line with the most stringent textile industry requirements.