Printeriors to focus on sustainability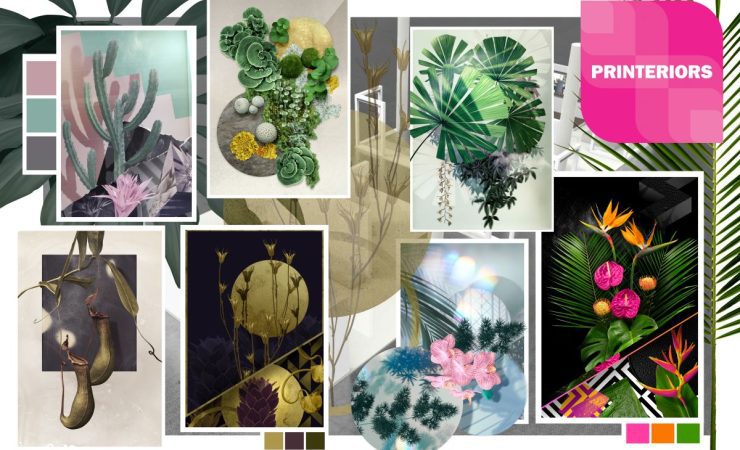 More than 30 different partners have collaborated to produce a diverse collection of digitally printed applications
Further details have been released about the Printeriors showcase at the upcoming Fespa Global Print Expo in the German capital of Berlin. 
Located in the South Entrance of the exhibition, which will run from 31 May – 3 June, Printeriors will offer visitors a comprehensive showcase of sustainably produced interior décor, with a clear emphasis on applications manufactured using environmentally responsible processes and ethically sourced materials.
It will incorporate seven themed zones decorated using nature-inspired designs by artist Jasper Goodall. Two new themes have been introduced for 2022 – Nature's Canopy and Surface Micro – both tying into the overall ethos of sustainability, while introducing new elements of surface interest and texture. The organisers intend for the feature to 'deliver an immersive visual and tactile experience that encourages visitors to touch and feel, and to actively use the space for networking conversations or relaxation.' 
More than 30 different partners have collaborated to produce a diverse collection of digitally printed applications and the finished showcase will include textiles, wall coverings, floor graphics, window films, printed carpets, rugs and cushions, leathers, ceramics, metal and lenticular artwork, display signage, decorated tabletops, fine art prints, lighting and lightboxes, and acoustic fabric walls.
'The focus on sustainability at this year's Printeriors reflects its growing significance in the interior décor and fashion industries,' explained Fespa textile ambassador and Printeriors curator, Debbie McKeegan. 'The pandemic has enhanced our collective focus on our natural environment and brands find themselves responding to escalating consumer demand for products with reduced environmental impact.
'Meanwhile, legacy supply chains involving mass off-shore production, warehousing and long-distance transportation are being replaced with near-shoring, just-in-time, small batch production, with increased use of digital technologies to personalise and customise. Sustainability, durability and circularity are the new watchwords in décor, and a visit to Printeriors in Berlin will demonstrate that stunning multi-sensory interiors can be created while still safeguarding our planet.'