CMYUK shines spotlight on EFI textile printers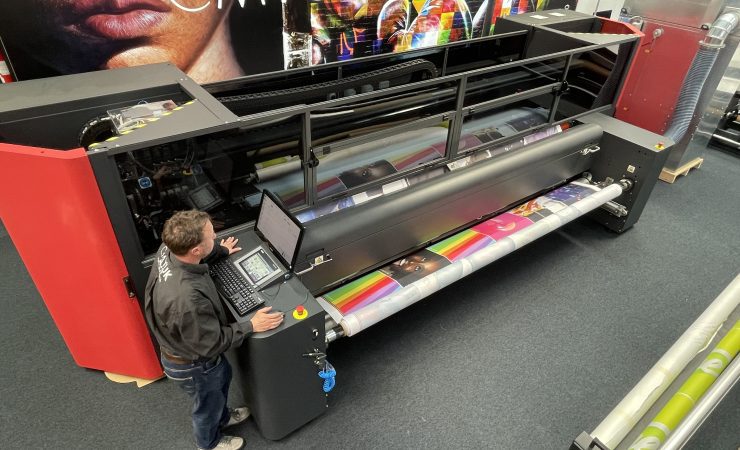 CMYUK's new Vutek FabriVU 340i+ will be making its UK debut in Shrewsbury
EFI printers will be taking centre stage at CMYUK's upcoming Printer Production Open House.
CMYUK's new Vutek FabriVU 340i+ will be making its UK debut alongside the company's EFI Pro 30h 3.2m UV LED printer at the open house, which is scheduled to take place across 18 – 19 May at CMYUK's demonstration and training centre in Shrewsbury. Technology from Mimaki, Canon, Epson, Klieverik, Kongsberg and Trotec will also be on display.
The 340i+m has been developed to help businesses expand into new soft signage and textile markets. It has eight Kyocera printheads, compared to its predecessor's four, meaning that it can print at 600dpi rather than 300dpi, with POP speeds 48% faster. It also offers both direct-to-substrate and paper sublimation printing.
'There's a great deal of interest around the FabriVU 340i+,' said Brett Platt, CMYUK, textiles business manager. 'It offers a real opportunity for customers to expand their business offerings. The integrated fixation capability is perfect for companies that don't have the floor space or CAPEX spend for an additional stand-alone heat press. It represents a host of advantages that we are excited to share with new and existing customers. CMYUK has long been a hub for digital textile printing, and these days it's almost unthinkable for sign and display businesses not to offer soft signage solutions including TFS, murals, SEG Backlights, event backdrops, hanging banners, retail fixture wraps, front light POP, promo tents, and divisional graphics.'
Meanwhile the 3.2m Pro 30h 3.2m Hybrid UV LED printer, available for £164,995 including delivery, warranty and installation, leverages proven technological innovations found in EFI Reggiani textile printers, high-speed h-series and single pass platforms.
CMYUK sales director Sue Hayward commented, 'The Pro 30h is a stunning piece of equipment that combines hugely successful elements of EFI technology packaged in one printer. It's a very impressive proposition and customers are buzzing over its feature set.  We anticipate that it will be a very strong contender in the market.'