Inèdit and Transfertex bring pay-as-you-go for textile designs and printing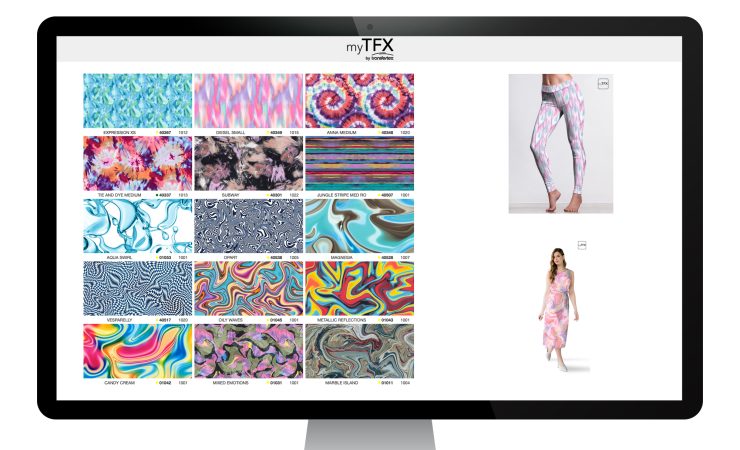 Designs by the yard (or metre) – only pay for what you print
Textile print RIP developer Inèdit Software and transfer paper and film producer Transfertex have announced a strategic partnership that will allow users to buy high quality copyright-protected designs online and pay only for the linear metres they print.
Transfertex, which claims to be the world's largest producer of sustainable transfer papers and films, supporting both rotogravure and digital printing, runs the myTFX digital platform that offers a constantly-updated selection of thousands of ready-to-print designs in various colourways. Inèdit develops the neoStampa Rip Software for digital textile printers, with a particular focus on colour management.
The two companies describe the agreement as a 'breakthrough in the process of acquiring designs'. Dani Martinez, product owner at Inèdit, explained, 'Together with Transfertex we have designed a revolutionary solution for the digital textile printing industry. Inèdit has developed a unique encryption system that allows [the] neoStampa RIP to read the files created in the myTFX platform and print only the metres purchased by the customer.
'For the first time, printers will be able to choose among a huge collection of trendy designs and pay only for the metres they really need to print. On the other hand, designers will receive the real value of their work. We are pleased to be part, once again, of the industry's transformation and we are very grateful to Transfertex for choosing us.'
André Peters, managing director of Transfertex, added, 'We have a long-standing and trusting partnership with Inèdit. The first projects to show designs digitally were already developed and implemented 25 years ago; this project is another milestone in the digitisation of textile printing.'
The collaboration will be featured in a live micro-factory demonstration at Fespa in Berlin later this month.