Printful survey points to on-demand future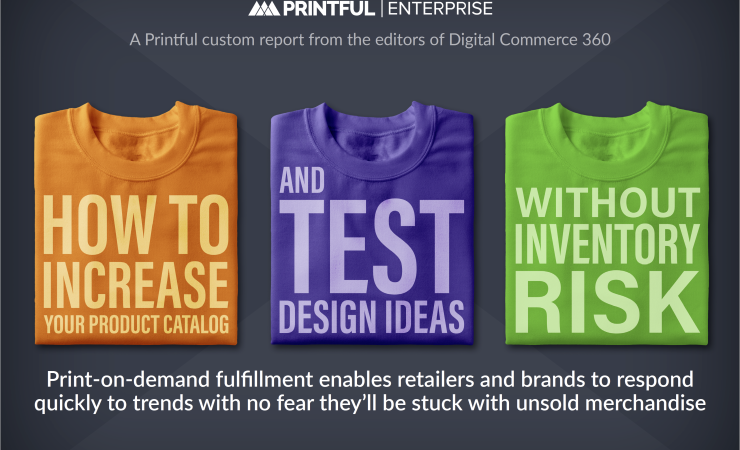 'How to increase your product catalogue and test design ideas without inventory risk' - Printful's report
A market report commissioned by on-demand print fulfilment company Printful suggests that an increased drive for e-commerce among brands and retailers will see an accelerating  swing towards on-demand production of personalised clothing and related items.
Research conducted by e-commerce research specialist Digital Commerce 360 for Printful included 66 online retailers and brands and revealed that conventional retail models and supply chain backlogs are affecting their ability to react to trends and to minimise inventory-related risks.
Key findings were that challenges included the ability to react quickly to trends (cited by 86%), with testing out new ideas and the closely-linked need to increase product assortment coming in next at 74 and 73% respectively; allowing product customisation was a priority for 61%. On the supply chain side, maintaining inventory was a problem for 70%, while 44% cited supplier reliability as an issue.
Sustainability and customisation are important considerations for customers too, according to the report, which references a 2021 survey of consumers which showed that over two-thirds would pay more for a sustainably-produced product. It also mentions recent research by Deloitte that suggested one in five consumers would pay a 20% premium for customised products and nearly half (46%) would be willing to wait longer to get them.
The report goes on to highlight the growth in print-on-demand, while noting that at the time the research was taking place, only 17% of responding companies were either using or testing it, though also citing the example of Ralph Lauren, which introduced a custom polo shirt in 2021. Orbis Research projects sales of print-on-demand software to grow at a compound annual growth rate of 32.4% from 2021 through 2026.
The report notes that direct-to-garment printer manufacturer Kornit reported 67% revenue growth in 2021 while print-on-demand 'unicorn' Printful saw sales grow by nearly 80% in 2020. Printful recently held the official opening of its Wolverhampton, West Midlands facility, from which it plans to supply the vast majority of its UK e-commerce orders.