Printful opens Wolverhampton site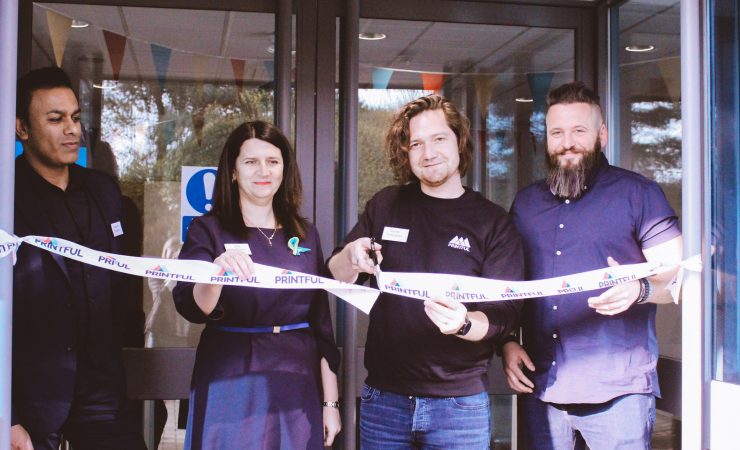 Open for business: (L to R) Shehzad Chaudhry, Department for International Trade, Ivita Burmistre, Latvian Ambassador to the UK, Printful's Raivis Petersons and Adam Bereza
Printful has officially opened its 90,000sqft fulfilment site in Wolverhampton, from which it plans over time to supply 80% of UK-destined print and related products sold through its customers' e-commerce sites, and creating up to 50 jobs in the West Midlands in its first year of operation.
At the opening ceremony, which was delayed from its intended January date by the Omicron Covid wave, regional director of operations for Europe of the Latvian 'unicorn' business Raivis Petersons spoke of the 'rollercoaster ride' since opening the first Printful site in Europe five years ago and explained that the UK had been chosen to host the new production site because it is the largest e-commerce market in Europe with a 'loyal and growing' customer base. Latvian ambassador to the UK Ivita Burmistre confirmed that the almost £3 million spend was one of the largest direct investments in the UK from the Baltic states in recent years.
Operations director Adam Bereza led a tour of the still largely empty factory, noting that only around 25% of the space was yet in use. While a variety of Kornit DtG, Happy and Tajima embroidery machines, Epson poster printing and Mimaki dye-sublimation equipment was installed and in use, Printful is reluctant to publicise details of precisely which models or its plans to expand the numbers installed over time. The printing of mobile phone cases via a Mimaki UV flatbed unit will be undertaken at the site from mid-April, taking over from a current site in Barcelona. Another capability already up and running is Sawgrass SubliJet dye-sublimation printing of mugs. Head office functions are presently still run from Latvia but the intention is to move accounts and customer service to the UK in the coming months.
Mr Bereza explained that the production capability was being implemented in 'batches' with the current one being the first with the rest expected to roll out over the next three to six months. Additional products to be added will include canvas print, but the technology for this has yet to be ordered. He noted that Printful standardises equipment and processes across all its sites to ensure consistent quality. This includes a bespoke in-house developed workflow system that links into a variety of e-commerce platforms used by Printful's customers, predominantly small and medium sized businesses, and which uses barcode tracking though production and quality control to shipping.
Mr Petersons told Digital Textile Printer that a combination of 'teamwork and strong IT skills' was behind the company's success and that flexibility was key to its strategy as there are 'new things every day' to deal with and that product selection is customer-driven, particularly by celebrity endorsement of social media influencers on platforms such as Instagram. He anticipated that the new site will support Printful's growth in the UK over the next five to 10 years, and will break a cycle of outgrowing premises every couple of years.
Future product possibilities for the site include printing of items such as postcards, which would currently be outsourced, and printing of personalised packaging, as well as offering customers photographic and design services. Printful's first facility was launched in California in 2017 and it currently operates 10 in-house facilities globally, four of which are in Europe – two in Latvia, one in Spain, and now the one in the UK.