Fespa set to forge ahead for 2021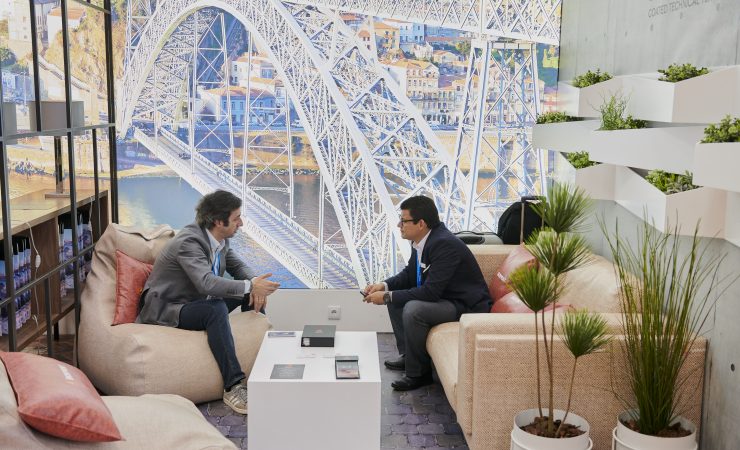 Face-to-face at Fespa: the show is set to go on in Amsterdam this October
Fespa has confirmed that it is intending to go ahead with the Global Print Expo 2021 and concurrent European Sign Expo 2021, both scheduled for 12 – 15 October at the RAI centre in Amsterdam, and has announced dates for the 2022 event, which will return to Berlin from 31 May to 3 June next year.
Occupying six halls at the venue and representing over 16,000sqm of floor space, this year's event will take place more than two years after the 2019 one in Munich and according to Fespa CEO Neil Felton, will feature thousands  exhibitors, including many prominent names in digital wide-format print, among them Agfa, Canon, Durst, Kornit, Mimaki, Roland DG and Brother. For comparison, there had been 390 exhibitors booked for the postponed and ultimately cancelled 2020 Madrid event.
Running under the overall theme of 'bringing colour back', special focus areas at the event include Printeriors (interior decor) and the Wrap Masters (vehicle wrapping) competition but Sportswear Pro, which debuted in 2019 will not run due to Covid restrictions and neither will the Print Make Wear clothing focus or the Fespa Theatre. Mr Felton pointed out that the content Fespa has generated over the last 18 months via its Fespa Innovation & Trends (FIT) webinars and Coffee Break online events, which have drawn significant engagement, is all available on its YouTube channel.
Covid precautions derived from Dutch government advice include 1.5m social distancing and mask wearing where this is not possible. Entry – which will be via pre-registration only –  will require proof of full vaccination or a suitably recent negative test; for UK visitors, vaccination status via the NHS app will be accepted and will probably be required for international travel anyway. Ticketing and information access at the show will be handled electronically via the Fespa app and the use of QR codes throughout the venue for as contactless an experience as possible. A lanyard 'traffic light' system for visitors to indicate their preferences for degrees of physical proximity or interaction is envisaged.
Mr Felton said there is 'a strong appetite for Fespa 2021, with vaccination, the EU digital certificate and travel easing from September. Exhibitors and visitors are excited to be back.' He indicated that some product launches were expected but head of marketing and events Simona Jevdokimovaite would not be drawn on anticipated numbers of attendees. The online events are set to continue and will form a key part of what Mr Felton described as 'contingency plans' should it not be possible to hold the event in person.
Mr Felton also announced that the 2022 event will be held at the Berlin Messe, the site of the 2018 exhibition, where it will fill eight halls and run from 31 May to 3 June 2022. The Fespa Awards will resume from then, too, having been impossible to hold in 2020/21, but it is not yet decided whether Sportswear Pro will return then, though Mr Felton alluded to the possibility of both that and 'something else' appearing. Commenting on the decision to hold the event so soon after the 2021 one, he explained that it was because not all exhibitors who wanted to participate in the October 2021 event were able to do so because of travel and other restrictions in their home territories.